Ruggiano ends 0-for-42 funk, has big day
Ruggiano ends 0-for-42 funk, has big day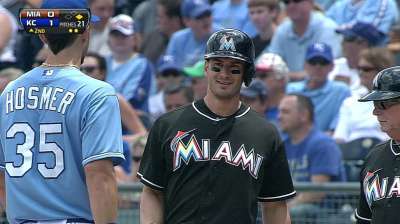 KANSAS CITY -- Justin Ruggiano's offensive nightmare is over. The Marlins outfielder snapped an 0-for-42 slump in the second inning of Wednesday's 5-2 win with an infield single off Royals right-hander Ervin Santana.
Ruggiano had been closing in on the all-time record for consecutive hitless at-bats by a position player when he smacked a grounder through the middle. Shortstop Alcides Escobar made a diving stop, but his throw was too late to get Ruggiano streaking down the line. The modern hitless streak in one season is 45, held by Craig Counsell (2011) and Bill Bergen (1909).
With the pressure lifted, Ruggiano went on to have a 3-for-4 day, including a game-tying RBI single in the fourth.
"It was like taking a monkey off my back," Ruggiano said. "I'm just glad it's over and I can get back to doing what I do."
On contact, Ruggiano thought he had a clean single to center. Then he saw Escobar make a diving stop.
"Escobar tried to ruin my day," said Ruggiano, who kept the streak-breaking ball.
And if Escobar had been able to throw him out?
"I would have run all the way to the bullpen and just sat down," Ruggiano said.
Prior to Wednesday, Ruggiano's last hit came on July 6. He had a big smile as he returned to first base after dashing down the line. Teammates raised their arms in celebration from the Marlins' dugout.
"Did you see everybody?" Ruggiano said. "It was like my first hit."
Robert Falkoff is a contributor to MLB.com. This story was not subject to the approval of Major League Baseball or its clubs.