Dobbs designated hitter for opener with KC
Dobbs designated hitter for opener with KC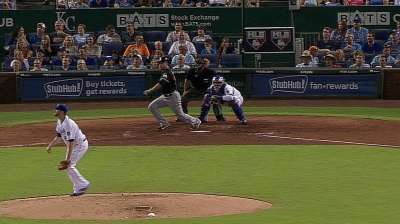 KANSAS CITY -- Marlins manager Mike Redmond cited experience as a key factor in his decision to go with Greg Dobbs as the designated hitter on Monday night against the Royals.
"When National League teams come into an American League park, it's a challenge for us because our guys aren't used to the DH," Redmond said. "Putting a young kid in as the DH is tough. You've got a guy like Dobbs who's used to pinch-hitting. That's probably the best fit in that role for us."
Dobbs made his manager look good by going 2-for-3 with two doubles and an RBI in Kansas City's 6-2 victory.
With left-hander Bruce Chen slated to start for the Royals on Tuesday night, Redmond indicated he would probably opt for a different DH in the middle game of the series.
Robert Falkoff is a contributor to MLB.com. This story was not subject to the approval of Major League Baseball or its clubs.