Marlins eye postseason honors for Fernandez
Marlins eye postseason honors for Fernandez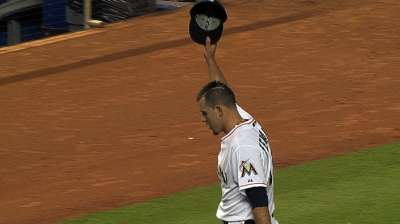 MIAMI -- From 2003-09, three Marlins captured National League Rookie of the Year honors.
The organization is hoping to add to the list in 2013.
Jose Fernandez, the team's dominating right-hander, is making a case to receive serious consideration.
It is hard to overlook what Fernandez has been doing, especially of late.
On Friday night, two days after turning 21, Fernandez struck out 14 while scattering three hits over eight scoreless innings in Miami's 10-0 win over the Indians. In his prior outing, he struck out 13 Pirates.
The 14 strikeouts are a Marlins' rookie record.
According to Elias, Fernandez is the fifth pitcher under the age of 22 since 1900 to record consecutive 13-plus strikeout games. He joins Dennis Eckersley (1976), Dwight Gooden (1984), Jose Rijo (1986) and Kerry Wood (1998).
Among National League rookie starting pitchers, Fernandez has the most strikeouts (138) and best ERA (2.54).
The Marlins are starting to campaign for Fernandez to be part of Rookie of the Year talk.
"He should be; I'm biased," manager Mike Redmond said. "I've watched this kid over the course of the year. I can't imagine there being a better rookie than him."
The presumed frontrunner is outfielder Yasiel Puig of the Dodgers.
Like Fernandez, Puig is from Cuba.
But unlike Fernandez, Puig is expected to finish out the season.
The Marlins have set a strict innings limit for Fernandez, which is around 170.
Fernandez is at 127 2/3 right now, and if he averages seven innings per start, he could make five more starts and have his season shut down after Aug. 30.
Would missing the final month of the season hurt Fernandez's chances?
"It could, but that's not on him," Redmond said. "I don't think that's going to affect his life if he wins Rookie of the Year or not. But he definitely deserves that honor, the way he's going right now. That's been amazing."
The serious top rookie pitching candidates are St. Louis' Shelby Miller, Atlanta's Julio Teheran and Los Angeles' Hyun-Jin Ryu.
None of them have outperformed Fernandez, who is on pace to become the Marlins' all-time rookie strikeout leader. In 2006, Scott Olsen posted 166.
"You look at his numbers," Redmond said. "And look early in the season, when he was only throwing five innings. You look at what he was able to do. He was an All-Star.
"If you look what he's been able to do over the last few months, he probably could have completed two or three games by now. But his day will come."
Past Marlins Rookies of the Year include Dontrelle Willis (2003), Hanley Ramirez (2006) and Chris Coghlan (2009).
Fernandez is being handled cautiously because he made the leap from Class A to the big leagues at age 20. Redmond and pitching coach Chuck Hernandez have carefully monitored the rookie's innings.
"He knows that Chuck and I have his best interests in mind," Redmond said. "As hard as that is for all of us, because we want to see him go out and pitch. But it's going to be better for him down the road."
Joe Frisaro is a reporter for MLB.com. He writes a blog, called The Fish Pond. Follow him on Twitter Share This