Hoping to stick in Miami, Ruggiano expands game
Hoping to stick in Miami, Ruggiano expands game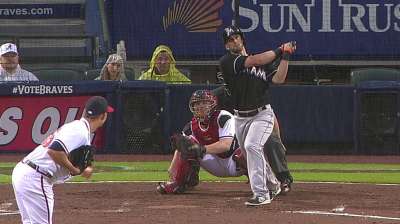 MIAMI -- With so many talented young players growing together, the Marlins are confident they are headed for a bright future.
Justin Ruggiano would like to remain part of the plans.
The 31-year-old outfielder is open to any spot on the roster, be it outfield or even some first base, if necessary.
"To be a part of this team right here, and what we're doing and where they're headed, whatever role they would have me in, I'd love to be here," Ruggiano said. "I enjoy the staff here. I think we're going to have a really good future ahead of us. We have such a talented group of young arms here. And a lineup that is shaping up nicely. It's going to be fun."
There are indications that the Marlins would like to have Ruggiano back next year, because he offers solid defense at all three outfield positions, and he has power.
Miami is short on home run threats, and it appears that in the offseason they will not be in the market for a high-priced free-agent power hitter. Basically, the Marlins are looking for the talent they have within the organization to emerge.
Ruggiano has moved into a bench role now that Christian Yelich and Jake Marisnick have been promoted from Double-A Jacksonville to the big leagues. Of late, Ruggiano has gone through a rough time, as he is mired in an 0-for-33 slump, which is tied with Mike Jacobs (2007) for the longest drought in franchise history by a position player.
But more than his .200 batting average, Ruggiano has already shown he can be productive, as indicated by his 12 homers, 32 RBIs and 12 stolen bases.
Ruggiano is arbitration-eligible for the first time after this season.
Several teams inquired about Ruggiano before Wednesday's non-waiver Trade Deadline, and he still could be moved in August during the waiver trade period, if an offer makes sense.
But it appears unlikely Ruggiano will be dealt by Sept. 1.
Ruggiano also is open to playing first base, if needed, which gives him more options for contributing. Of late, he has worked on the basics at first base from infield coach Perry Hill, nicknamed "Bone."
"I've been probably bothering Bone more than he wants me to, just to get some work in over at first," Ruggiano said. "Just to get somewhat of a comfort level, if they got into a pinch, or if they actually wanted me to work over there. Either way.
"I feel comfortable in the outfield enough that I could take some days off from shagging fly balls and go over there and get work in earlier or do it in BP. But it's definitely something you have to work on. You can't just go over there. I'd love to do it."
Ruggiano also is leaning toward playing winter ball in the Dominican Republic to get more at-bats.
Joe Frisaro is a reporter for MLB.com. He writes a blog, called The Fish Pond. Follow him on Twitter Share This