Marlins' brass likes the look, future of club
Marlins' brass likes the look, future of club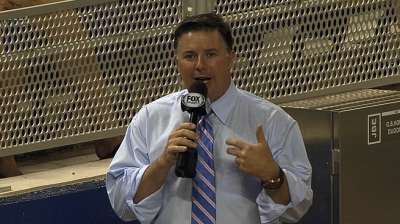 MIAMI -- If not for the dramatic improvement over the past two months, there's no telling what the Marlins' clubhouse would look like right now.
A big reason Miami stood pat at Wednesday's non-waiver Trade Deadline is because of how the team has trended in recent months.
In June and July, the Marlins went 27-24, and their 3.38 team ERA ranked seventh-best in the Majors during that span.
Since the youthful squad is starting to gain maturity, the front office decided to not tamper with what it hopes is continued success.
But what if the team had slumped the past two months?
Based on the first two months, chances were the Marlins would have been in a seller mode at the Deadline. After all, the team was 14-41 in April and May, and if that trend held steady, moves almost certainly would have been made.
"If April and May continues, yeah, I think you do feel differently about things," president of baseball operations Larry Beinfest said. "Maybe have to rethink your whole program in total."
The club began to play better after Giancarlo Stanton, Logan Morrison, Nathan Eovaldi and Henderson Alvarez returned from the disabled list in June.
"Guys are getting experience," Beinfest said. "We've got our pitching back. Guys got healthy, and we started to look the way we were hopeful we would look right from the start. But it didn't work out that way. No doubt. The way we've played the last two months definitely mattered."
In the final two months, the Marlins are aiming to win as many games as possible. That is a reason they opted to keep veterans like reliever Chad Qualls, who drew interest.
Qualls is a free agent after the season, but the Marlins see his value down the stretch. He's serving in a valuable setup role. If he were traded, young relievers would have slid into roles they may not necessarily be ready to handle.
With a talented young rotation, the organization didn't want to chance having quality starts turn into blown saves.
"I think some of our more experienced players are filling vital roles here," Beinfest said. "We looked at it in total and said, 'OK, what is their production? What is their contribution to the team both in the clubhouse and on the field, etc.?' And if they fit that role and we think they're helping, then absolutely we would want them to stay."
Joe Frisaro is a reporter for MLB.com. He writes a blog, called The Fish Pond. Follow him on Twitter Share This