Rookie Fernandez celebrates 21st birthday
Rookie Fernandez celebrates 21st birthday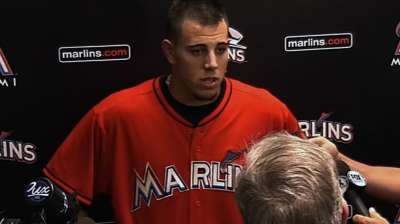 MIAMI -- Jose Fernandez turned 21 on Wednesday, but his birthday is just the latest milestone he will celebrate. Fernandez has enjoyed a stellar season, earning an All-Star selection and making a push to win the National League Rookie of the Year Award.
Although he may not have foreseen so much success in his rookie season, Fernandez always intended to celebrate his 21st birthday in the Majors.
"I wanted to be in the big leagues before I was 21," Fernandez said. "I said that all the time. I was here in the big leagues, but now I've got to set another goal."
Fernandez enjoyed a good year as a 20-year-old.
He was Miami's lone All-Star and became the youngest Marlin to ever go to the Midsummer Classic. When he entered the game, he retired American League home run leader Chris Davis and former AL MVPs Dustin Pedroia and Miguel Cabrera.
Fernandez fanned Pedroia and Davis, joining Dwight Gooden and Bob Feller as the only starting pitchers younger than 21 to strike out two or more batters in the All-Star Game.
In his most recent start, Fernandez struck out 13 batters in a win against the Pirates on Sunday, setting a Marlins rookie franchise record and becoming one of only four pitchers to ever strike out 13 or more without a walk before turning 21.
Although Fernandez will be a year older the next time he takes the mound, his approach will remain the same.
"Go out there, try to do the best I can and try to give the team a chance to win," Fernandez said. "That's what I'm here for. It's going to be fun."
Joe Morgan is an associate reporter for MLB.com. This story was not subject to the approval of Major League Baseball or its clubs.