Qualls getting plenty of ribbing for fist-pump fall
Qualls getting plenty of ribbing for fist-pump fall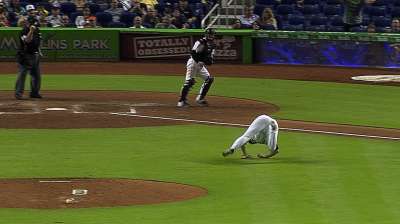 MIAMI -- Chad Qualls shut down the Mets' offense after giving up a leadoff triple in the eighth inning of a tied game on Tuesday night. Gravity was more opportune.
When Qualls struck out Omar Quintanilla to strand runners on the corners, he unleashed a celebratory fist pump before stumbling on his way back to the dugout. Although he recovered quickly with a somersault, the damage had been done.
"I probably just went for too big of a fist pump there," Qualls said. "My ankle fully rolled, and at 245 pounds, you can't really stay up. So, I just tucked and rolled and popped up, and in my head, pretended nothing happened. By the time I got to the dugout, I was like, 'Man, that just really happened.'
"I figured it couldn't happen to a better guy, a more sarcastic guy who gives everybody [a hard time]. I've got a sense of humor, so I can just go with it. It's no big deal."
Qualls was not the only Marlin with a sense of humor about it. Teammates have poked fun at the 34-year-old veteran from the moment he returned to the dugout.
"It's the funniest thing I've ever seen on a baseball field," said starter Tom Koehler while fighting back laughter. "Without a doubt, I've never seen anything like that. I'm glad he's not hurt, but it was so funny. I can't even talk about it without laughing."
Added rookie Jose Fernandez, who turned 21 on Wednesday: "That was an amazing night. That was a nice gift. That was nice. The whole team was laughing pretty hard."
Shortly after Qualls fell, the clip went viral and also resurrected footage of another fall. In a relief appearance with the Phillies last season, Qualls made a pickoff throw to first and fell over backward on the mound.
"The past two years, I'm just prone to falling down," Qualls said.
After making the rounds on television and the web, the Marlins got in on the fun during batting practice on Wednesday, playing the clip on repeat for a couple of minutes, accompanied by Tom Petty's "Free Fallin'" and classical music.
"Only a few of us will remember how big of an out that was," Miami manager Mike Redmond said. "Most of us will remember the finale to the out. It was funny. I've never seen a guy over-fist pump. He just way over-fist pumped."
Joe Morgan is an associate reporter for MLB.com. This story was not subject to the approval of Major League Baseball or its clubs.