Ruggiano responds to Tino's version of disagreement
Ruggiano responds to Tino's version of disagreement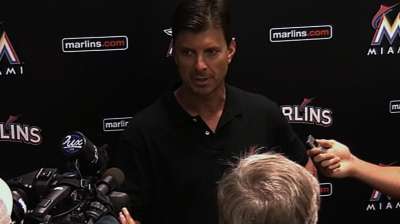 MIAMI -- Marlins outfielder Justin Ruggiano acknowledged he had an exchange of words with former hitting coach Tino Martinez, but he claims it didn't involved picking up baseballs in the batting cage.
Without going into much detail, Ruggiano on Tuesday responded to a report in which Martinez gave his side of the story as to why he resigned as Miami's hitting coach on Sunday.
Ken Rosenthal of FoxSports.com reported Martinez admitted to having disagreements with Derek Dietrich, Chris Valaika and Ruggiano.
"Do you realize I'm basically out of baseball basically because a couple of players didn't pick up balls in the cage when I asked them to?" Martinez said in the story.
Martinez stepped down on Sunday after it was made public that there were incidents of him being abusive to players.
Dietrich is currently at Double-A Jacksonville, and Valaika is at Triple-A New Orleans.
Regarding Ruggiano, Martinez recalled an incident in Spring Training when the outfielder returned to the clubhouse without picking up baseballs hit in the cages off a machine. According to the report, someone else cleaned up the cage.
"So one day I confronted [Ruggiano] and told him how he was a terrible teammate, how he treated the players, how he was this and this and this," Martinez said to Rosenthal.
Ruggiano on Tuesday responded: "I was disappointed in being called a bad teammate. That was between me and him. Our incident, between Tino and I, wasn't about picking up baseballs. I never had a problem about picking up baseballs. Never will. I'm just going to leave it at that."
Martinez's resignation comes at a time the young Marlins are starting to put things together. Clubhouse chemistry is the best it has been in years, and players are closely knit.
As an organization, the Marlins are putting Martinez's resignation behind them.
"This team right now, we are doing too many good things to harp on something like this," Ruggiano said.
Ruggiano's playing time has been reduced since outfielders Christian Yelich and Jake Marisnick were promoted from Double-A.
To make himself more versatile, Ruggiano has been working with infield coach Perry Hill at first base on the basics of the position.
"I'm picking [Hill's] brain, picking up a new position," Ruggiano said. "I figure, why not pick up things from the best? He is here. He's one of the better guys as far as instructing the infield."
Ruggiano last played first base, on an emergency basis, in the Minor Leagues with the Astros in 2012, prior to his trade to Miami.
Joe Frisaro is a reporter for MLB.com. He writes a blog, called The Fish Pond. Follow him on Twitter Share This