Slowey may miss rest of season due to flexor strain
Slowey may miss rest of season due to flexor strain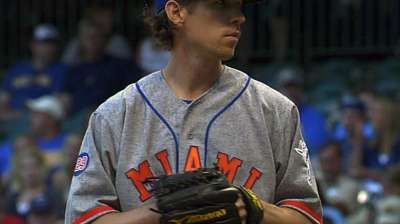 MIAMI -- Kevin Slowey is sidelined with a right flexor strain that will require four to six weeks of rest before throwing again.
The right-hander underwent an MRI on Monday after experiencing forearm discomfort while warming up in the bullpen on Saturday. The Marlins placed Slowey on the 15-day disabled list on Saturday night with a right forearm strain.
"None of [the doctors] felt like it was anything that was torn," Slowey said. "There was no partial anything, which I was thankful for, obviously."
Said Miami manager Mike Redmond: "For him, he needed that peace of mind to try to find out what was wrong."
The timetable for a potential return, combined with the number of games left on the schedule, might mean Slowey will miss the remainder of the regular season.
"That part's disappointing," Slowey said. "Immediately you start to think about how long the season would be and how much time we have left, but just kind of give it a little bit of time to calm down and strengthen everything else and keep an eye on it."
"You look at four to six weeks -- that's going to be a challenge for him to come back," Redmond said. "But I think the important thing for him would be to come back and just show that he's all right and he's healthy for next year."
Slowey has spent time in the bullpen and the starting rotation this year, compiling a 4.11 ERA in 92 innings. He has a 4.21 ERA and five quality starts in 14 starts compared to a 3.60 ERA in 15 innings out of the bullpen.
Although Slowey is disappointed that his season might be over, he is not dwelling on the possibility much. Instead, he is treating the situation like any other injury.
"I know I'm best off taking it just one day at a time," Slowey said. "I really am. Trying to figure out how things are going to be four or six weeks from now, it's not productive as much as I'd love to know.
"Nobody wants to know more than I do when I'll going to be back to competing, but I do know that I'm not going to be for at least the next month."
Joe Frisaro is a reporter for MLB.com. He writes a blog, called The Fish Pond. Follow him on Twitter Share This