Hechavarria's bat matching defensive prowess
Hechavarria's bat matching defensive prowess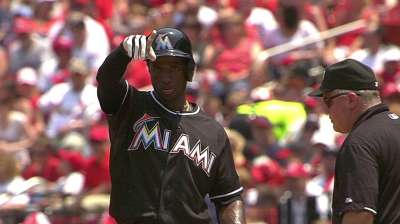 MIAMI -- Adeiny Hechavarria's stellar defense sometimes makes it easy to overlook his struggles at the plate. His powerful throwing arm and his range at shortstop more than make up for the rookie's batting average, which was below .200 for most of the 2013 season, although it's been above the Mendoza Line since June 15.
Perhaps Hechavarria's lowest point came when his average dipped to .176 following a 7-2 loss to the Phillies on June 3. But in 109 at-bats since, Hechavarria is a changed man at the plate.
He is batting .294 since June 4 with nine RBIs and nine multi-hit games, raising his average to .225. He has been especially hot as of late, batting .351 (13-for-37) in his past 10 contests.
"Although a lot of the year, he's struggled offensively, his defense has been lights-out," Marlins manager Mike Redmond said. "The offense is something he's worked on a lot. He's working hard and starting to see some results of the hard work."
Going into Monday's game, he owns a career-best seven-game hitting streak, which he extended with a run-scoring single in Sunday's 3-2 loss to the Cardinals. His past two hits have proven critical, giving the Marlins a 1-0 lead on Saturday and tying Sunday's game at 1.
One area where Redmond feels Hechavarria will improve is plate discipline. Hechavarria has walked only 14 times in 279 appearances, and his 5 percent walk rate is third-worst among Marlins with at least 190 plate appearances.
"From what I see, he just continues to need at-bats," Redmond said. "Just working counts and when to be aggressive and when to take some pitches."
As Hechavarria has heated up offensively, he has continued his strong defensive play. The 24-year-old ranked second among National League shortstops entering Monday with a .986 fielding percentage. He has committed only two errors in his past 173 chances.
"When he does put it all together, this kid's an All-Star," Redmond said. "I think the beauty of Hech is that he's been able to really separate his offense and defense."
The Marlins are 19-14 since May 31 after posting a 13-41 record to begin the season. While multiple factors have contributed to Miami's recent success, Hechavarria's bat has played a key role in the team's turnaround.
"His swing is good," Redmond said. "It is fun to see him go up there and get some hits, because I know each one of those hits that he gets is a big boost for his confidence."
Joe Morgan is an associate reporter for MLB.com. This story was not subject to the approval of Major League Baseball or its clubs.