Coghlan may soon be cleared for baseball activities
Coghlan may soon be cleared for baseball activities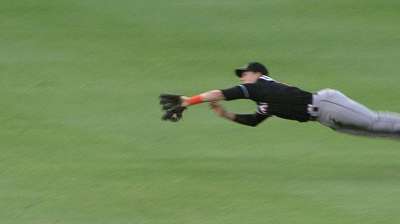 MIAMI -- Chris Coghlan will meet with a doctor on Thursday to determine if he is able to resume baseball activities.
"He's just hanging on," Marlins manager Mike Redmond said. "He's just resting. I think he's going to go back and see the doctor. If the doctor gives him the OK, then I think he'll be able to be cleared to start back with some baseball activities."
Coghlan, who was placed on the 15-day disabled list on June 9, went to see a spine specialist in Dallas on June 17. He was told that the injury would not require surgery and that he needed to rest his back.
The 28-year-old initially felt discomfort in his right calf, and the Marlins placed him on the DL with right calf nerve irritation. However, an MRI on June 10 revealed that Coghlan had suffered an apparent lower back strain.
The back injury has sidelined Coghlan since June 8, a day that capped a stellar 18-game stretch for the outfielder. He earned an everyday spot in the lineup on May 18, and he did not disappoint, batting .343 (23-for-67) with nine RBIs and four runs scored in 73 plate appearances.
Despite missing a month, Coghlan is still tied for second among Marlins with three triples, tied for third with nine doubles, third with a .742 on-base-plus-slugging percentage and fifth in both batting average (.277) and on-base percentage (.326).
Joe Morgan is an associate reporter for MLB.com. This story was not subject to the approval of Major League Baseball or its clubs.