Nolasco grateful for time in Miami, deal to West Coast
Nolasco grateful for time in Miami, deal to West Coast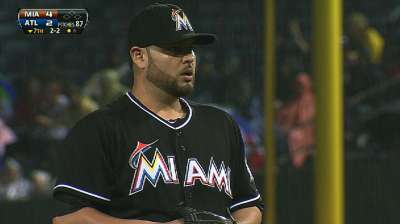 ST. LOUIS -- Early Sunday morning, Ricky Nolasco was at Busch Stadium cleaning out his locker and offering his goodbyes to his now former teammates.
The Marlins on Saturday night completed a trade that sent Nolasco to the Dodgers for three pitching prospects -- Steve Ames, Josh Wall and Angel Sanchez.
Nolasco, given his big league break by the Marlins in 2006, departs as the organization's all-time wins leader. He was taking a 2 p.m. CT flight out of St. Louis, where he will join the Dodgers at Arizona.
The 30-year-old right-hander plans on heading back to Miami over the All-Star break to pack up the rest of his belongings. Nolasco, a Southern California native, is elated to be heading home. He's also appreciative that the Marlins worked out a deal that accommodated both sides.
"They were really happy to do that for me at the same time, while they were still getting everything they needed in return," Nolasco said. "I can't thank them enough for even thinking that way, and that gesture. It is greatly appreciated."
This was truly a trade that worked out ideally for both team and player. Nolasco had been loyal and professional all season, knowing he was likely going to be traded. For his service and attitude, the Marlins took his wishes to pitch on the West Coast into consideration while also getting back what they wanted.
"I thank them a lot for even thinking of making that gesture," Nolasco said. "For it to happen, it is awesome. I can't be more thankful."
Nolasco turns the organization over to a young, promising roster, filled with talented players looking to grow up together.
Nolasco was initially scheduled to pitch Monday against the Braves at Marlins Park. Now, Kevin Slowey is filling the rotation spot, where he is expected to remain until the All-Star break. In the second half, the Marlins are expected to call up at least a couple of starting pitchers. Tom Koehler, Brad Hand, Anthony DeSclafani, Adam Conley and Brian Flynn are all possibilities.
"These guys have definitely got a lot to look forward to," Nolasco said. "They've played really well of late, especially with the young starting pitching they have.
"Guys came back off the DL, and they've really started to swing the bat. They've got a good thing going here. It's unfortunate I can't be here to be part of that any more. But I'm still going to be pulling for those guys in here, every time we're not playing them. So I'll be watching every day."
Marlins slugger Giancarlo Stanton, also from Southern California, is close friends with Nolasco, and he is happy for the veteran right-hander.
"He's going to the perfect spot for him," Stanton said. "To be able to go to where you want without having a choice is always a little extra bonus. He'll have fun. It won't be a tough transition for him. It's where he wanted to go."
Asked if he is jealous, Stanton responded: "No!"
Stanton is part of the building process and of a group of players looking to create its own identity.
"It's fun to watch," the slugger said. "We've played better together. I feel like we're in more games than we were last year and having more losses. It's just like we're always so close."
To make improvements and develop into a contending team, Stanton says it is a matter of how the players react. Do they accept losing, saying they are inexperienced, or do they have the urgency to win?
"Do you accept we're young, we should be losing, or do you sit back and figure out why, and why teams like this [Cardinals] are so efficient?" Stanton said. "It's just all how you react to it."
Joe Frisaro is a reporter for MLB.com. He writes a blog, called The Fish Pond. Follow him on Twitter Share This