Brantly seeking consistent approach at, behind plate
Brantly seeking consistent approach at, behind plate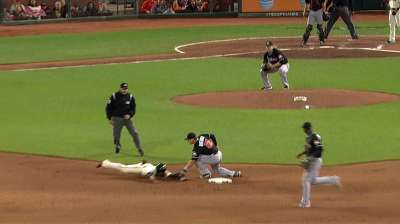 ATLANTA -- High-energy by nature, Rob Brantly is seeking a more steady approach.
The Marlins catcher remains an unfinished product, behind the plate and in the batter's box.
Like so many young players with the Marlins, Brantly is being groomed as the catcher of the future. Along the way, he's enduring his ups and downs. Still, he's relatively new to the big leagues.
Tuesday's start against the Braves is career game No. 80 for Brantly, 49 of them coming this year.
"The thing with me is consistency," said the left-handed hitting catcher, who turns 24 on July 14. "It's constantly building that consistency, to be the rock behind the dish.
"I've felt like since the beginning, I've made some great strides behind the plate, as far as what I'm doing physically. My throws have been spot on. Blocking has gone really well, and my receiving is getting better every day. My confidence in calling a game is getting better every day. Now, it's just eliminating those one little hiccups."
Brantly has been charged with six passed balls, and he's developing his game-calling skills.
Entering Tuesday's contest, in games in which Brantly has been behind the dish, Marlins' pitchers have a 4.41 ERA in 416 1/3 innings. Veteran Jeff Mathis, by comparison, has not committed a passed ball. In 175 1/3 innings of catching, Miami's pitchers have a 2.41 ERA when Mathis is catching.
Both have been solid at throwing out potential basestealers.
Mathis has caught 11-of-16 attempting to steal, a remarkable 68.8 percent. Brantly, with twice as many chances, has a respectable 12-for-33 (36.4 percent).
Brantly is learning from watching Mathis.
"He's consistent," Brantly said. "He throws runners out. He calls a solid game every time he is out there. He's exactly what you want out of a catcher. I want to learn from his ability to be consistent."
Joe Frisaro is a reporter for MLB.com. He writes a blog, called The Fish Pond. Follow him on Twitter Share This