Qualls, Marlins honor fallen Arizona firefighters
Qualls, Marlins honor fallen Arizona firefighters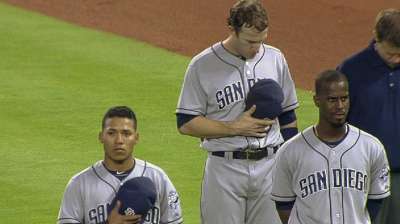 MIAMI -- Teams around Major League Baseball took time to recognize the 19 firefighters who lost their lives Sunday battling the wildfires in Arizona.
The Marlins and Padres participated in a moment of silence prior to Monday's series finale to honor those who passed away fighting the Yarnell Hill fire, northwest of Phoenix.
Marlins reliever Chad Qualls is familiar with the area after spending the 2008-09 seasons with the D-backs. The veteran reliever is concerned for all those affected by the fires, especially the families of those who lost their lives.
"I was up in the north Scottsdale area when I lived there, and I know it gets real hot and dry and gusty," Qualls said. "It had to catch them off guard. It's a shame. My heart goes out to their families. It's something you don't like to hear about, especially about people who put their life on the line to save others. It's tough news."
David Villavicencio is a contributor to MLB.com. This story was not subject to the approval of Major League Baseball or its clubs.