Marlins great sees bright future for Redmond
Marlins great sees bright future for Redmond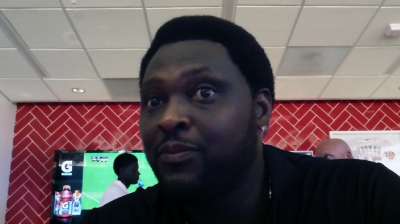 MIAMI -- An all-time Marlins great sees a bright managerial future for Mike Redmond.
Charles Johnson, a former All-Star and Gold Glove-winning catcher with the Marlins, was once a teammate of Redmond's.
Johnson, a member of the Marlins' 1997 World Series title team, was at Marlins Park on Sunday to take part in honoring the 20th anniversary of the organization.
With a young roster this year, the Marlins got off to a rough first two months, and they still have the worst record in the Majors. However, the team enjoyed a winning month of June while showing signs of improvement.
"It was a rough start definitely to the season," said Johnson, who makes his home in Plantation, Fla. "But I've got a lot of confidence in Redmond. Playing with Redmond for a lot of years, and knowing the kind of character that this guy has. I'm sure he is hanging tough with them. I'm pretty sure that Redmond is going to do very well."
Johnson and Redmond were both catchers, meaning they worked closely together.
"Red has always been a good leader," Johnson said. "He displayed that a lot, especially in his catching. He does a good job on the field. He is a good field general. I knew right away he was going to be a good manager. In due time, I think that is going to show, when the wins come."
Among the former Marlins on hand Sunday were Preston Wilson, Jeff Conine, Alex Arias, Tony Taylor, Tony Perez, Lenny Harris, Cliff Floyd and Bruce Aven.
Joe Frisaro is a reporter for MLB.com. He writes a blog, called The Fish Pond. Follow him on Twitter Share This