Ruggiano sits out Tuesday with sore shoulder
Ruggiano sits out Tuesday with sore shoulder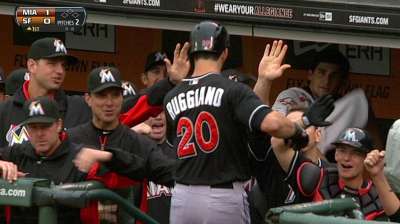 MIAMI -- Justin Ruggiano is coming off a two-homer game, but the 31-year-old was not in the lineup for Tuesday's series opener against the Twins.
A sore left shoulder suffered while diving for a ball in Sunday's win over the Giants will keep Ruggiano from building off his performance, in which he went 2-for-5 with three RBIs.
"Ruggiano dove for that ball in San Francisco and complained of a sore shoulder, so he's out," manager Mike Redmond said. "I don't know if that is a short-term deal or long-term deal. We'll have to play that by ear. That's something -- to have such a great day, hit two home runs and not be able to play the next day."
The veteran outfielder has had a strong June, hitting .316 with three homers and six RBIs over 38 at-bats. Juan Pierre, who will replace Ruggiano in the lineup, has also had a successful month, batting .297 with four extra-base hits and five stolen bases.
Both players are viable options for the Marlins. Redmond is not saying how he will divide the playing time once both are available, but he plans to find the best way to utilize Ruggiano and Pierre.
"We're going to have some tough decisions to make, but sometimes those decisions benefit you in the long run," Redmond said. "A manager is always trying to find the spot where a guy has the most success and benefits the team."
David Villavicencio is a contributor to MLB.com. This story was not subject to the approval of Major League Baseball or its clubs.