Stanton dominant in NL West stadiums
Stanton dominant in NL West stadiums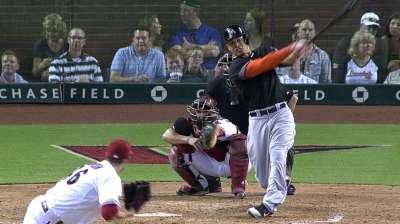 PHOENIX -- Giancarlo Stanton isn't sure why, but whenever the Marlins' outfielder plays in National League West parks, his bat seems to have even more pop to it than normal.
That trend was in full effect Monday at Chase Field as the 23-year-old hit two homers and drove in all three runs for Miami in the club's 3-2 victory over the D-backs.
Counting Monday's bounty, Stanton now has hit 25 home runs in 48 career games in NL West stadiums.
"I don't know, if I knew what it was, I'd bring it with me to every park," Stanton said.
Stanton, who grew up in California, thought maybe proximity to home has something to do with the staggering power numbers, which also include 20 doubles and 50 RBIs.
"More family gets to watch me play out here, that's all I can attest it to," said Stanton, whose father was in attendance Monday.
Tyler Emerick is an associate reporter for MLB.com. This story was not subject to the approval of Major League Baseball or its clubs.