Polanco has virus, back stiffness; expects to play Friday
Polanco has virus, back stiffness; expects to play Friday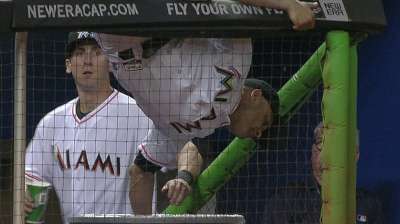 MIAMI -- Marlins third baseman Placido Polanco expects a return to the lineup on Friday after exiting Monday's 6-1 loss to the Brewers in the bottom of the sixth inning.
Polanco, who was listed as day to day, is once again suffering from lower back stiffness. Miami has an off-day on Thursday.
"Since batting practice, it was just a little tight," Polanco said. "It kept getting worse during the game. Sometimes you swing and it gets loose, but this was getting worse."
The 37-year-old said he felt much better on Tuesday. It bothers him most when he puts his neck down, pulling on his lower back. Over the past eight days he has also been battling a virus.
Last season, Polanco played only 90 games with the Phillies. He was also briefly sidelined in early March during Spring Training.
On Monday, during the fifth inning, he nearly tumbled over the dugout railing going for a foul ball, but Ed Lucas and catchers Miguel Olivo and Rob Brantly ran over to keep him from falling. Polanco said that play didn't cause the discomfort.
Polanco is batting .227 with seven RBIs and 19 runs this season. The 16-year veteran has committed only one error in 53 games.
"The last week I've had that virus, and I have another day or two left," Polanco said. "There's nothing you can do. They gave me a Z-Pak and the Z-Pak didn't do anything, and all that is related. You lose fluid and the 20 innings the other day didn't help."
Christina De Nicola is a contributor to MLB.com. Joe Morgan is an associate reporter for MLB.com. This story was not subject to the approval of Major League Baseball or its clubs.