With Stanton hitting third, Dietrich moves to sixth
With Stanton hitting third, Dietrich moves to sixth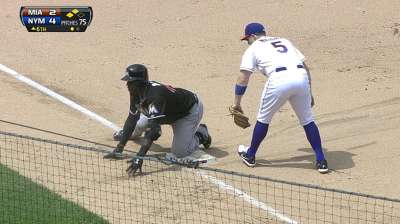 MIAMI - Giancarlo Stanton returned to the Marlins lineup Monday night, settling right back into his customary third spot in the batting order.
However, the names on manager Mike Redmond's lineup card have changed dramatically since he's been gone.
Perhaps the most significant difference since Stanton went to the DL with a right hamstring strain on April 29 is the establishment of rookie outfielder Marcell Ozuna in the No. 4 spot.
Ozuna, who filled in for Stanton in right field, has blossomed as Miami's cleanup hitter, batting .331 with 17 RBIs, 18 runs scored and 67 total bases in 142 at-bats.
"We'll see how that goes throughout the course of the season, but right now with Stanton we want to get him up there and as many at-bats we can in the game and get him back in the flow," Redmond said. "Ozuna has done a great job in the four-hole, and he's gotten some big hits for us and driven in some big runs."
First baseman Logan Morrison, who played his first MLB game since July in the Marlins' 8-4 win against the Mets on Sunday, hit fifth Monday night.
Morrison finished 2-for-4 with a walk and a run scored in his first game back.
"LoMo had good at-bats hitting fifth," Redmond said.
Returning Stanton and Morrison help Miami's lineup with more than simply additional bats. Derek Dietrich, who has hit third since May 14, moved down to sixth on Monday night.
"I think it for sure, without a doubt strengthens our lineup. It stretches out our lineup where we can drop Dietrich down a little bit father in the order," Redmond said. "The middle of our lineup is more of a threat. I think that's good. We've obviously been waiting for this day for a while. But I'm happy with the way we've grinded it out."
Christina De Nicola is a contributor to MLB.com. Joe Morgan is an associate reporter for MLB.com. This story was not subject to the approval of Major League Baseball or its clubs.