Marlins get 'fresh start' with return of LoMo, Stanton
Marlins get 'fresh start' with return of LoMo, Stanton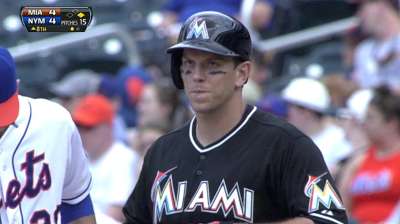 MIAMI -- When told that the past few months of the season couldn't be erased, Marlins first baseman Logan Morrison responded: "Why can't you?"
A day after Morrison made his 2013 debut, slugger Giancarlo Stanton returned from the 15-day disabled list.
"I give the guys a lot of credit," manager Mike Redmond said. "They kept battling, kept playing hard. I have to be honest with you -- getting LoMo back yesterday -- you could just sense and feel that guys were excited, and knowing Stanton was coming back today has definitely energized this team."
Juan Pierre admitted that the lineup offers a different dynamic with Stanton, rookie Marcell Ozuna and Morrison hitting back-to-back-to-back in the middle of the order.
"Definitely for the whole scheme of things and where we're trying to go as an organization, it definitely helps to have those guys around to plug into the [Derek] Dietrichs and Ozunas -- guys not supposed to be but are here because of injuries and [have] proven that they belong," Pierre said.
Despite holding the worst record in the Majors at 18-44, Miami remains optimistic with 100 games remaining in the regular season. Over the past 10 games, the Marlins are 5-5. They have won two of their last three series.
"I wasn't here, so it's a fresh start for me," Morrison said. "I've just got to bring that attitude to these guys, and hopefully it wears off. Every day's a new day, and it's the beginning of a new season.
"Don't worry about the records, the standings, just continue to compete and have the attitude that they're competing with us, we're not competing with them. I think that will go a long way."
Christina De Nicola is a contributor to MLB.com. Joe Morgan is an associate reporter for MLB.com. This story was not subject to the approval of Major League Baseball or its clubs.