Marlins select Moran with No. 6 pick
Marlins select Moran with No. 6 pick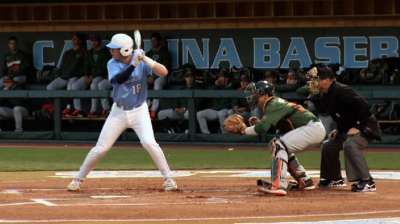 SECAUCUS, N.J. -- The Marlins took a major step in addressing their need for an impact bat by selecting highly touted Colin Moran with the No. 6 overall pick in Thursday's First-Year Player Draft.
A left-handed-hitting third baseman from the University of North Carolina, the 20-year-old Moran was initially not considered to be in reach for Miami. But the way the first five picks fell, he dropped to sixth, and was immediately taken to fill a big void in the system.
"He is one of the premier college bats in the country," said Stan Meek, vice president of scouting. "We really thought he would go in front of us. We were obviously thrilled that he got down to us. He fits a need, but also fits us from an ability standpoint.
"There is a lot of history of success with the bat, and [he is] able to play third. He fits a great spot for us. It's really a perfect fit."
The Marlins have lacked a consistent third baseman since they traded Miguel Cabrera to the Tigers after the 2007 season.
Moran's 6-foot-3 frame is similar to that of Washington third baseman Ryan Zimmerman. And Meek says Moran draws some similarities to Hall of Famer Wade Boggs.
"Maybe there is a little Boggs in the glove," he said. "He's a solid defender, he kind of moves a little bit like Wade Boggs. I wouldn't put the 'Wade Boggs' tag on him, that's a little tough on anybody. He's more of a Boggsy-type hitter."
All along the Marlins were leaning toward going with a college player. If Moran hadn't been available, they likely would have gone with a college pitcher, with Braden Shipley from the University of Nevada an option.
Moran received the news while watching the Draft, along with about 30 friends and teammates, at his mother's apartment in Cary, N.C.
"Right before the pick, I kind of had an idea I was going to get picked," Moran said. "It was awesome."
Moran is the nephew of former big leaguer B.J. Surhoff, a past No. 1 overall pick.
"He was big for us, paving the way for me and my family," Moran said.
The way the Marlins look at it, baseball has always been in Moran's blood.
"Bloodlines are big for us," Meek said. "To have that bloodline, plus his skills, we just thought it was a great spot for us."
Moran rooted for the Yankees growing up, and Tino Martinez, the Marlins' current hitting coach, was one of his favorite players.
In his junior season at North Carolina, Moran batted .348 with 13 home runs, 10 doubles, 86 RBIs and 70 runs in 64 games.
Quiet off the field, Moran is fiery on it. In March 2012 he let his temper get the best of him after he made a throwing error. He punched a wall and broke his hand.
"I like a little fire in his belly," Meek said. "A guy who wants to play rather than a guy we have to push out of the dugout to play."
Moran notes that his demeanor is different in the heat of action.
"I think I'm a little different on the field than I am off," he said. "Off the field I'm more relaxed and easygoing. I'm a really big competitor. I'm one of those guys who hates to lose. I try to do my best."
With five of the first 80 picks, the Marlins have a hectic few couple of rounds, and they had four selections on the first day.
In addition to No. 6, they had 35, 44 and 73.
No. 35 was a Competitive Balance Round A pick in the supplemental first round. The Marlins obtained the pick, along with outfielder Gorkys Hernandez, from the Pirates last July in exchange for Gaby Sanchez.
No. 73 was a Competitive Balance Round B supplemental second-round pick that was part of the trade that sent Anibal Sanchez and Omar Infante to the Tigers last July for Jacob Turner, Rob Brantly and Brian Flynn.
With the 35th pick, the Marlins went with pitcher Matt Krook from St. Ignatius High School in San Francisco. The 6-foot-4 left-hander, who possesses a 94-to-95-mph fastball, has a commitment to Oregon.
The Marlins again went with pitching with their second-round choice, taking right-hander Trevor Williams from Arizona State University at No. 44.
The Marlins' final pick of the day, the 73rd, was University of Arkansas closer Colby Suggs.
All teams have until July 12 to sign their picks.
The Marlins have $9,503,100 to spend on their picks, including an allotment of $3,516,500 on No. 6 and $1,587,700 on No. 35.
Meek doesn't think it will be an issue to sign Moran.
"I think we will get this done," he said. "It's time for him to go play. The money will be significant, so we should be fine."
Day 2 of the Draft continues with Rounds 3-10, streamed live on MLB.com on Friday, beginning with a preview show at 12:30 p.m. And Rounds 11-40 will be streamed live on MLB.com on Saturday, starting at 1 p.m.
MLB.com's coverage includes Draft Central, the Top 100 Draft Prospects list and Draft Tracker, a live interactive application that includes a searchable database of Draft-eligible players. You can also keep up to date by following @MLBDraft on Twitter. And get into the Draft conversation by tagging your tweets with #mlbdraft.
In the Pipeline:
Assuming he signs, Moran likely will start off at low Class A Greensboro.
Moran immediately should rank among the Marlins' top prospects, and his path to the big leagues will likely be in his own hands. Miami already has shown that it will promote players quickly. A prime example is Jose Fernandez, who, at the age of 20, opened the 2013 season in the rotation two years after he was the No. 14 overall pick.
The organization doesn't have any natural third basemen blocking Moran in the system.
"Like all these guys, we didn't know Jose Fernandez would get there that fast," Meek said. "We don't really know. I will say this, we think he's an advanced college bat. Take that for what it's worth. Hopefully, it won't take that long. But you never know. These guys kind of drive their own train. We sure think he would be a little quicker than some of these high school kids."
Joe Frisaro is a reporter for MLB.com. He writes a blog, called The Fish Pond. Follow him on Twitter Share This