McKeon in good spirits ahead of bypass surgery
Former big league manager and GM led Marlins to World Series title in '03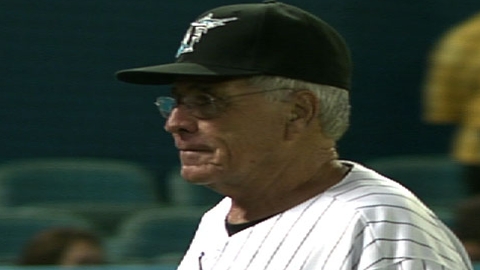 MIAMI -- Marlins special assistant Jack McKeon, who managed the organization's 2003 World Series championship team, is scheduled to undergo heart bypass surgery on Monday.
McKeon, 82, initially was set to have the procedure on Thursday in North Carolina, but it was postponed because another patient was in need of immediate attention.
McKeon, who lives in Elon, N.C., is in good spirits, and he is treating his situation like he is going on a brief disabled-list stint. He spent Thursday night watching baseball games, including the Marlins' series finale with the Rays.
"I'm fine. I'm not really hurting," McKeon told MLB.com on Friday morning. "I just want to live about 25 more years. That's all. We're going to go in Monday and do the bypass. Everything looks good."
McKeon said he is wearing Miami Marlins shorts at the hospital and staying as active as possible.
"I'm having a ball up here," he said. "I walk around the hallways here. Guys are sitting around, I'm telling them, 'Come on, get up here and walk around!'"
Recovery from the surgery is expected to take about three weeks, and McKeon anticipates not being able to drive for about four or five weeks. If all goes as scheduled, the former Marlins manager maintains he will be back in Florida and attending baseball games before the All-Star break.
"It's like a vacation," he said. "All I need is a little sun."
Energetic and affable, the cigar-smoking McKeon has been in professional baseball for more than 60 years. He is a two-time National League Manager of the Year, with the Reds in 1999 and the Marlins in 2003.
McKeon is known for his passion for baseball, his enthusiasm, intensity, story-telling ability and enjoying cigars. However, the doctors have advised the longtime manager to stop smoking.
"They tell me that," McKeon said. "We'll see how long that lasts."
McKeon said he went for a physical a week ago, and they detected a couple of blockages in his arteries. Surgery was scheduled at the hospital at Duke University. McKeon was ready to go on Thursday before he was pushed back a few days.
"You've got to realize those things have priority," he said on Friday.
As a general manager with the Padres in the 1980s, McKeon gained the nickname "Trader Jack," for his penchant to wheel and deal.
McKeon actually served two stints as manager of the Marlins, first guiding the club from 2003-05. His second tenure began on June 20, 2011, when he took over on an interim basis after Edwin Rodriguez resigned.
Returning in 2011 made McKeon the second-oldest manager in MLB history, topped only by Hall of Famer Connie Mack, who was 87 when he finally stepped down in 1950. McKeon was 72 when he managed the 2003 team, making him the oldest manager to win the World Series.
This is McKeon's eighth season as a special assistant with Miami.
McKeon was initially scheduled to be one of two Marlins representatives at the MLB Network studios in New Jersey for the first day of the 2013 First-Year Player Draft on June 6. Now, he is being replaced by Hall of Famer Andre Dawson, also a team special assistant. Dawson will join Bill Beck, the club's former director of team travel.
Each of the league's 30 teams will be represented at the Draft.
"I could go if I could get out of this [hospital]," McKeon said of being at the Draft. "I could go right now."
Joe Frisaro is a reporter for MLB.com. He writes a blog, called The Fish Pond. Follow him on Twitter @JoeFrisaro. This story was not subject to the approval of Major League Baseball or its clubs.