Brantly getting valuable experience behind dish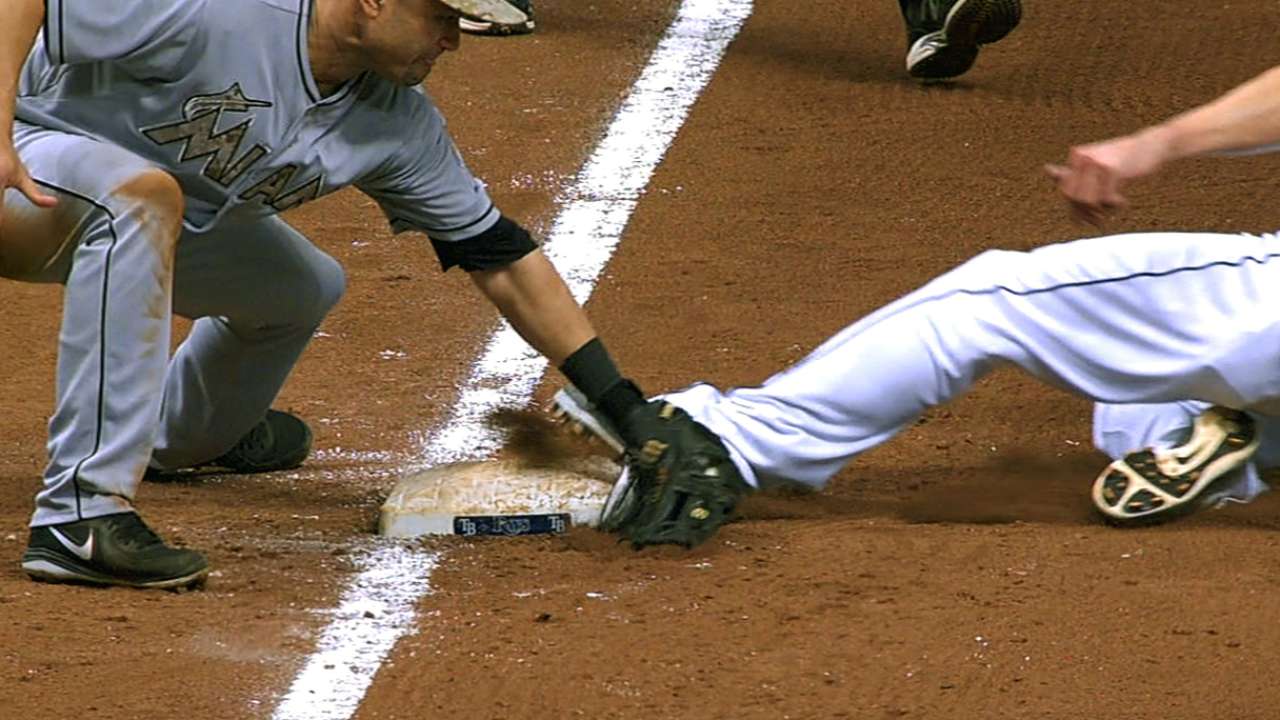 ST. PETERSBURG -- Learning from mistakes is all part of the process for Marlins catcher Rob Brantly.
The 23-year-old was involved in a couple of rough plays in Monday's 10-6 loss to the Rays at Tropicana Field.
In the second inning, on Ben Zobrist's bunt with runners on first and third, he threw to second in hopes of turning a double play. Instead, the throw pulled shortstop Adeiny Hechavarria off the bag. Brantly was charged with an error on the throw, and with two outs, Kelly Johnson belted a three-run homer.
Tampa Bay scored six runs in the second inning off starter Jose Fernandez, but only three were earned.
Another play Brantly was upset at himself came in the sixth inning when Dan Jennings was intentionally walking Evan Longoria. Johnson was on second base, and he noticed Jennings wasn't paying attention to him. So he stole third base during an intentional walk.
Brantly saw Johnson inching closer to third. While Jennings should have checked the runner better, Brantly said he should have called time to remind the pitcher to freeze the runner.
"It just gives you new things to anticipate that you should have anticipated before," Brantly said. "You learn from it. You don't forget things like that. That's embarrassing. For me, as a catcher, who gets to see the field, I don't have my back turned to runners. It's embarrassing for me to let that happen."
Regarding the bunt play, Brantly said: "It's a judgment call. I think the obvious judgment call is when you look at a guy at third base, you're not going to have time to turn the double play. I should have taken the sure out at first base after looking the guy back at third. But I made a decision, and I went for it. You've got to learn from your experiences."
Like many of the Marlins, Brantly is gaining valuable experience at an early age. He's 23, and he has 59 big league starts under his belt, including 31 this season.
"New situations happen all the time," Brantly said.
Joe Frisaro is a reporter for MLB.com. He writes a blog, called The Fish Pond. Follow him on Twitter Share This