Sharing closer role, Cishek seeking his comfort zone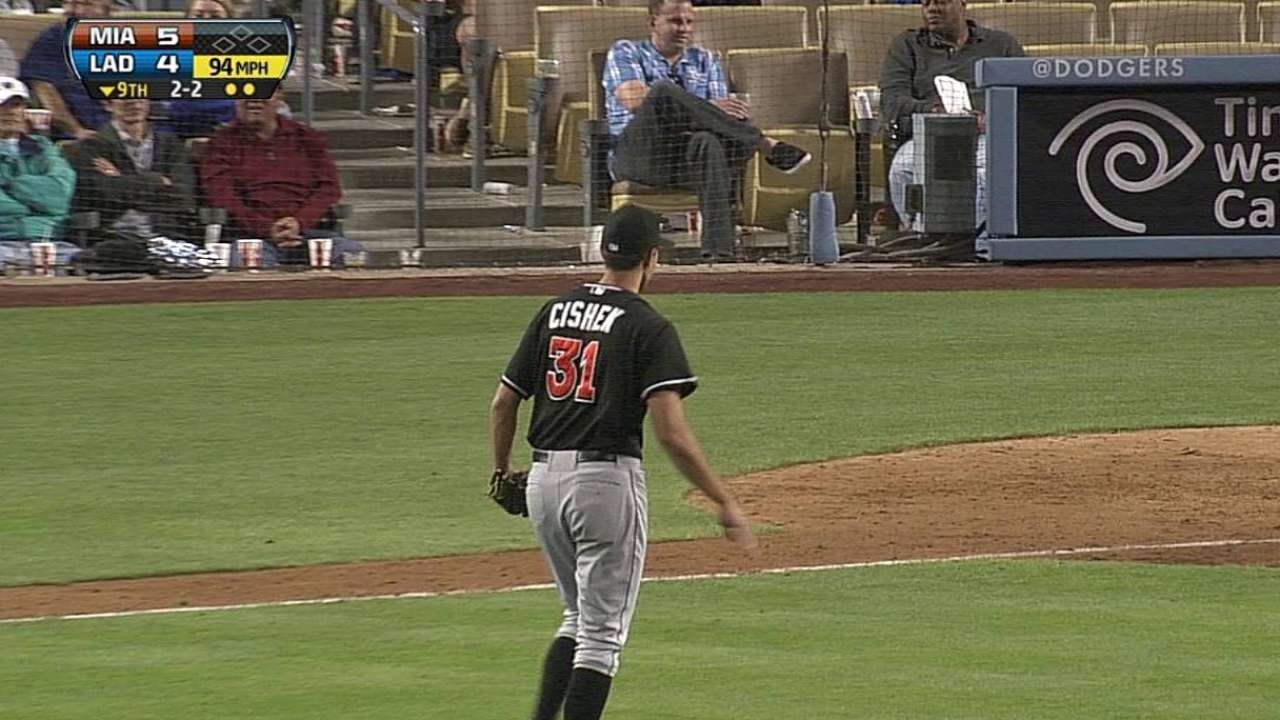 MIAMI -- Steve Cishek understands there is little job security for closers.
The right-hander struggled in the role, especially against left-handed hitters, which led to the Marlins deciding to close by matchups.
"The bottom line is I didn't get the job done," the 26-year-old said. "I'm kind of disappointed in myself. I'm looking forward to trying to get back on the right track here, and for us as a team to get back on the right track."
Cishek has saved five of six chances, but he's had his difficulties. In 18 1/3 innings, he has a 4.91 ERA. A year ago, he finished with a 2.69 ERA in 63 2/3 innings, and he had 15 saves after taking over the closer role from Heath Bell after the All-Star break.
Miami manager Mike Redmond plans on giving Cishek chances to close, but for now, it will depend on matchups as to who gets the call. Chad Qualls, who once closed with the D-backs, is an option, as is left-hander Mike Dunn.
"Everybody makes such a big deal about defined roles, but we're still developing some of our young pitchers," Redmond said. "I think it's more important for these guys to go out there, especially a guy like Cishek to go out there and pitch and get innings in."
Because the team is off to a rough start, there haven't been many save opportunities.
"I think we're doing him a disservice if we sit him down there for five or six or seven days waiting to get in a save situation and not pitch him," Redmond said. "I think it's more important to give him consistent work. And if he gets the opportunity to save games -- which he will -- that's great and it's a huge experience."
With a sidearm delivery, left-handed hitters have enjoyed more success off Cishek. They're batting .333 (13-for-39) with two home runs. He's walked eight lefty batters and struck out 10.
Right-handers are hitting just .111 (3-for-27) off him, including two walks and eight strikeouts.
A year ago, lefties hit .279 off Cishek, compared to .185 for right-handers.
"Looking at some video, I've had three different arm slots in the past three years I've been up here," he said.
A couple of seasons ago, his arm slot was higher, and a year ago it was significantly lower.
"This season I'm back up there, I'm kind of in-between right now," he said. "I'm trying to find a place where I'm most comfortable. We've been working on a couple of things. We hope it works out."
Joe Frisaro is a reporter for MLB.com. He writes a blog, called The Fish Pond. Follow him on Twitter Share This