Dunn pitching well in any situation for Marlins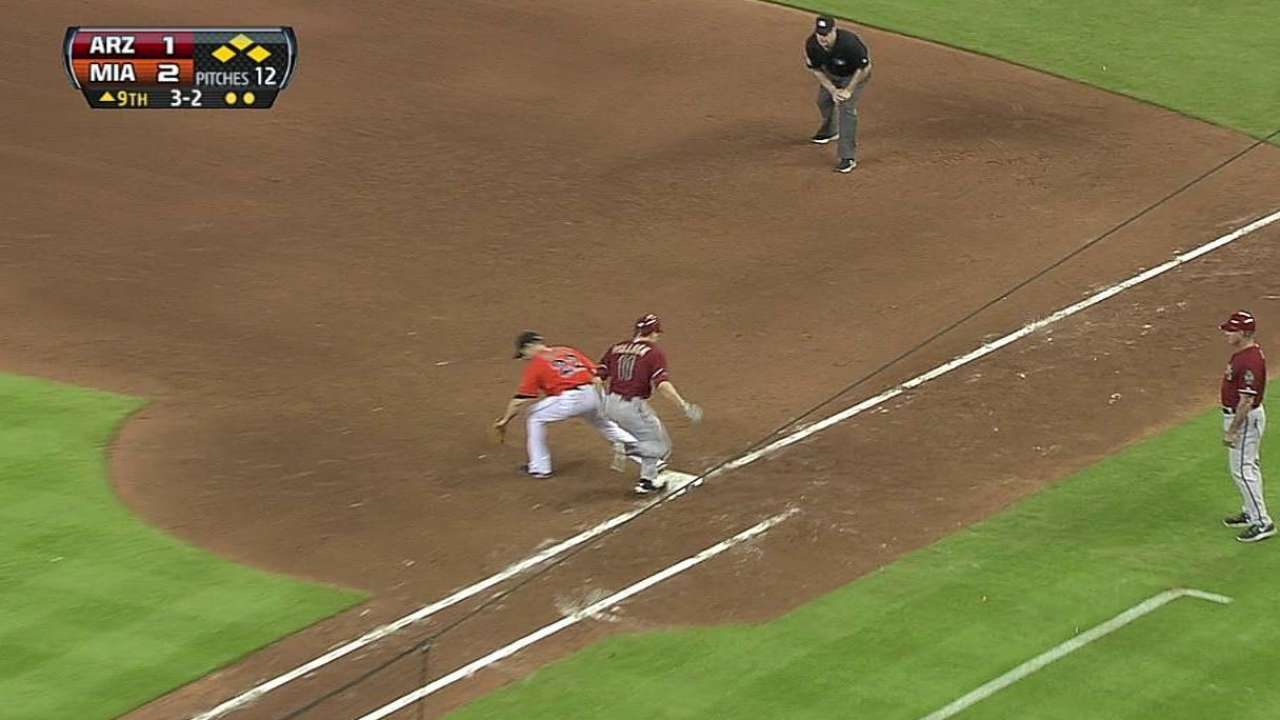 MIAMI -- Left-hander Mike Dunn does not have a defined role in the Marlins' bullpen this season. Other than closer Steve Cishek, nobody does.
But the uncertainty keeps Dunn and his teammates on their toes.
"Everyone's just kind of ready to go whenever the phone rings," Dunn said. "We've got different guys going multiple innings. We've got guys pitching just about every inning. So, it's just basically making sure you're stretched and ready to go. When the phone rings, be ready to pitch."
In Sunday's 2-1 win over the D-backs, Dunn was called on to get the final out after Cishek left with runners on first and second and two outs. Dunn was brought on to face left-handed hitting Miguel Montero, who he walked to load the bases, but then got pinch-hitter A.J. Collmenter to ground out to short to end it for his second career save and first this year.
Miami's bullpen ranks fourth in the National League with 143 innings pitched entering Sunday's game against the D-backs. Seven relievers have tossed more than 11 innings, and Wade LeBlanc recently joined the fray with six innings out of the bullpen during the past week.
The Marlins designated reliever Jon Rauch for assignment late Friday and recalled left-hander Duane Below from Triple-A New Orleans. Manager Mike Redmond said Saturday he anticipated using Below in a long relief role similar to that of LeBlanc.
However, Redmond also said Below could be used in situational at-bats against left-handed batters, playing into the constantly changing roles in Miami's bullpen.
"If you're watching the game, you can understand what guys are probably going to be getting the call just by who's coming up for the other team," Dunn said. "It's not necessarily a specific inning that someone's going to pitch."
Although his role is not clearly defined, Dunn has become one of Miami's most reliable relief pitchers this season. He ranks second on the team with a 1.77 ERA and his 20 1/3 innings are the third highest total among Marlins relievers.
Dunn has proven especially productive at home, pitching 10 scoreless innings at Marlins Park.
"Every game's the same. It's just attack the hitters," Dunn said. "Whether it be at home or the road, I feel like I'm having a good year all around. It doesn't really matter where we're at. You've just got to go out and do your job no matter where it is."
Joe Frisaro is a reporter for MLB.com. He writes a blog, called The Fish Pond. Follow him on Twitter Share This