Plenty of Marlins have moms in crowd for LA finale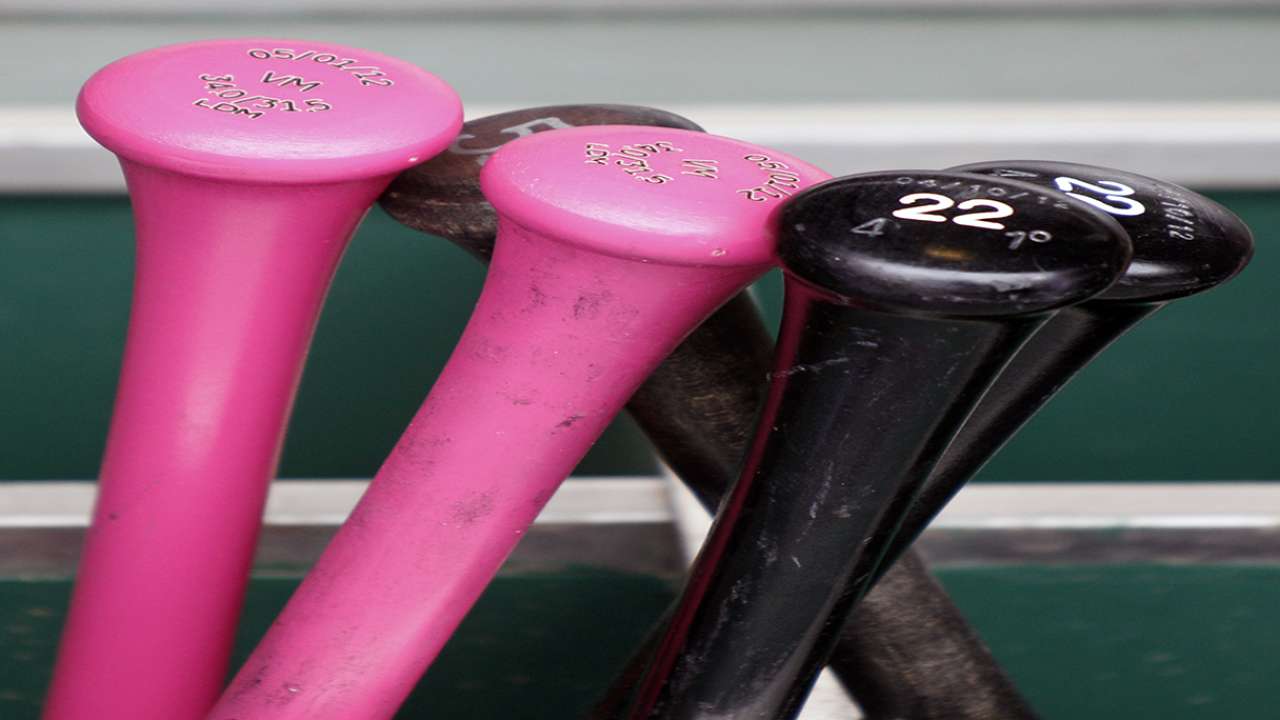 LOS ANGELES -- Big league players go through their share of ups and downs, but Marlins outfielder Juan Pierre says a constant is the unconditional love of your mother.
"It's just special, because we're all little kids at heart," Pierre said. "There is nobody like your mom. Dads can be a little rough on you, but moms, they see the good in you -- even if you strike out four times."
Major League Baseball continued its tradition Sunday of raising breast cancer awareness on Mother's Day.
Pierre used a pink bat in the series finale, a 5-3 loss to the Dodgers at Dodger Stadium. Other Marlins had pink batting gloves, wrist bands and cleats.
Justin Ruggiano homered in the loss and noted it was special to get a big hit on a special day.
"Obviously, to hit a home run on a Sunday that is Mother's Day is a great feeling," Ruggiano said. "More importantly, we want to win. That didn't happen. But still, a big thank you to all the moms out there. What they do to each and everyone's lives is more important than a baseball game and a 'W' for us. The more important issue here is honoring them and what they do for everybody."
"It's always a good day," said Pierre, who didn't get a hit with his pink bat. "Every day, you should think about your mom, or grandma, or your aunts, your wife, anyone who is a mom. Major League Baseball has done a great job over the years, using the pink bats, batting gloves, and raising awareness."
A number of Marlins players are from the Los Angeles area, and they had their moms at the ballpark. The list includes Rob Brantly, Greg Dobbs, Chad Qualls, Ricky Nolasco and Kyle Skipworth.
Second baseman Derek Dietrich, promoted from Double-A Jacksonville on Wednesday, had his family on hand. Dietrich's parents -- Cathi and Rich -- along with his sister, Dawn, and other family members were at the game.
Cathi and Rich flew from their home in Cleveland to the West Coast on Wednesday after they learned their son was heading to the big leagues.
"I can honestly say, probably the best Mother's Day ever," Cathi said. "I have both of my children here in an MLB stadium. We're so happy at this time for Derek."
Dietrich is giving his mother the ball from his first big league hit, along with his cleats.
"I couldn't be any happier to have my mom and all my family here," Dietrich said. "My sister got in here yesterday. It's going to be a special day for my family. I'm just happy to be out there playing.
"It's a special day for all the moms out there, whether their son is a professional baseball player or is in the military or whatever. It's a good day to be a son or a daughter."
Joe Frisaro is a reporter for MLB.com. He writes a blog, called The Fish Pond. Follow him on Twitter Share This