Injuries force Marlins to fast-track prospects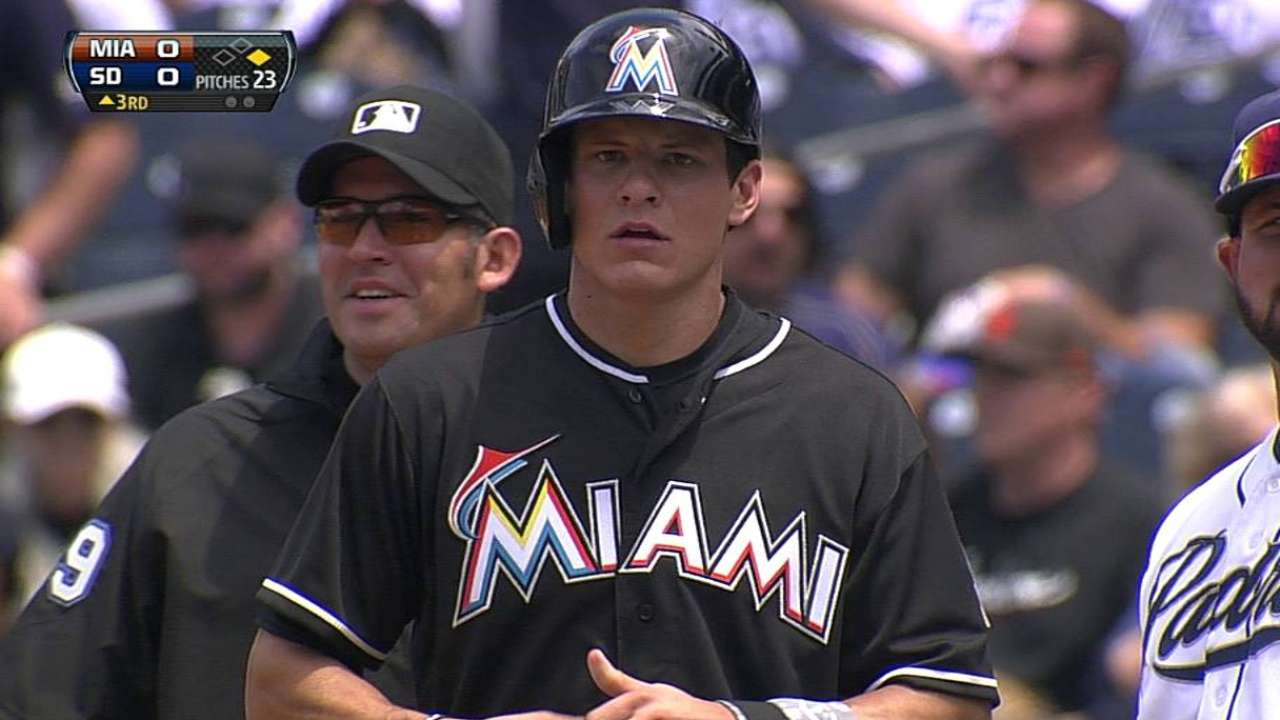 LOS ANGELES -- Dealing with injuries is part of the game. What's out of the ordinary is the pure volume of Marlins who have spent time on the disabled list this season.
Already 12 players have or are still serving 13 different stints on the DL, which is the most of any team in the Major Leagues.
The rash of players going down was displayed a few days ago in San Diego. On Tuesday, the Marlins placed second baseman Donovan Solano on the DL in the afternoon with a strained left intercostal, and his replacement, Chris Valaika, suffered a broken left wrist the same night.
The two injuries resulted in promoting prospect Derek Dietrich from Double-A Jacksonville about a month earlier than anticipated.
"It's been a bad run," president of baseball operations Larry Beinfest said. "It kind of started the first day of Spring Training when [Jeff] Mathis broke his collarbone, and it hasn't really stopped since."
Mathis, a veteran catcher, is on rehab assignment at Jacksonville and could arrive to the big leagues soon.
Toward the end of Spring Training, the front office was anticipating right-hander Jose Fernandez, outfielder Marcell Ozuna and Dietrich would be part of a loaded Double-A club. Now, all three are in the big leagues. And in a few weeks, if not sooner, outfielder Christian Yelich could also be making his MLB debut.
Ranked 13th on MLB.com's Top 100 Prospect List, Yelich is riding a 15-game hitting streak for the Suns.
This is a transition season for the Marlins, as the team reloads with younger players, many of whom were expected to continue their development in the Minors.
"I don't know if it messes up the plan," Beinfest said. "You've got to do what you've got to do. I don't think anybody thought that Derek Dietrich was going to be here today, but eventually he was going to be here. Eventually, Ozuna was going to be here. Eventually, Yelich will be here."
Calling up prospects has become a need because manager Mike Redmond has struggled to keep healthy bodies on the field.
"Right now, we're so buckled by the amount of injuries to key players," Beinfest said. "I don't know if we've taken a step back to say, 'OK, is this going to mess up the master plan?' We're trying to make sure Red has 25 guys every day, which has been tough. He's played short a lot. It's tough to keep up with it."
Joe Frisaro is a reporter for MLB.com. He writes a blog, called The Fish Pond. Follow him on Twitter Share This