Top Marlins prospects learning on the job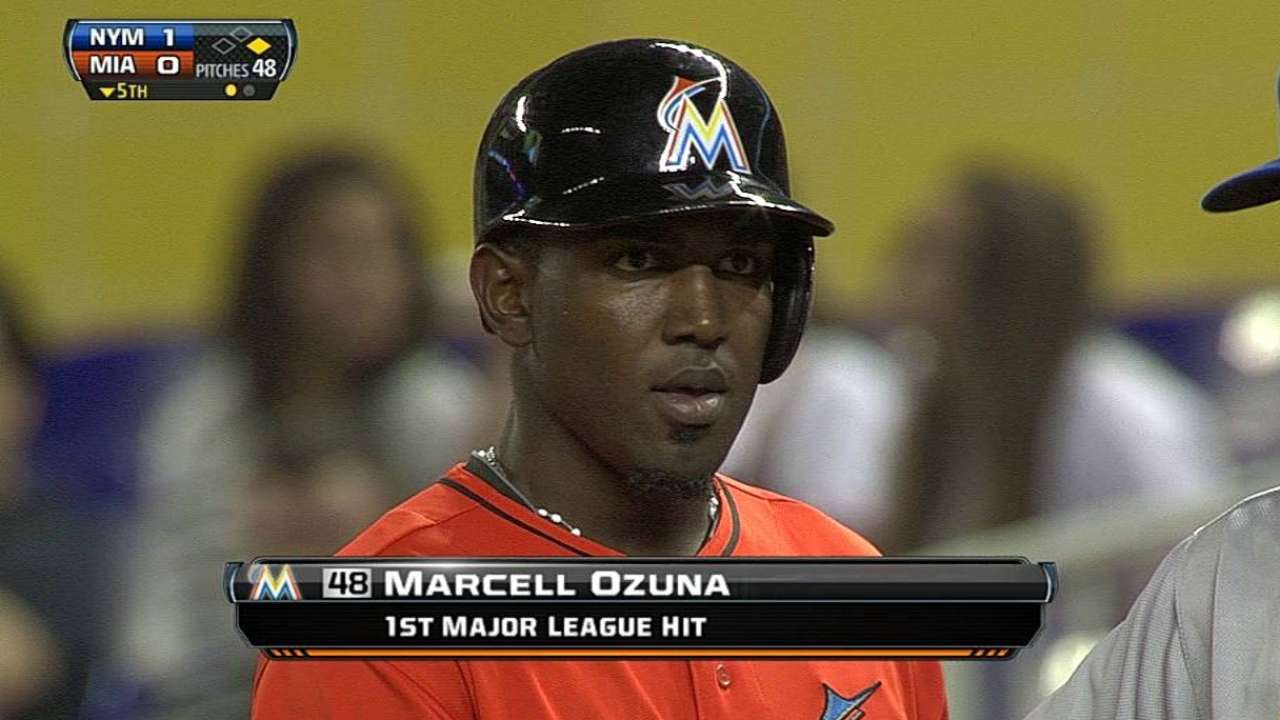 PHILADELPHIA -- Some of the Marlins' anticipated stars of tomorrow are actually getting a taste of the big leagues today due to a series of injuries.
Prospects Marcell Ozuna and Jose Fernandez have made the leap to the big leagues with either limited or no experience at the Double-A level.
It's not the ideal situation to develop young talent, but it is the reality the Marlins face as they are struggling in last place in the National League East.
"It's happening a little earlier due to unforeseen circumstances with injuries," manager Mike Redmond said. "We talked about it in Spring Training. We don't have a ton of depth. We're seeing that now. Guys get hurt. We've had to call guys up due to injuries."
Fernandez, 20, ranks as the organization's top prospect by MLB.com. The hard-throwing right-hander initially was set to be the ace of Double-A Jacksonville's staff. But the day before the season opener at Washington, he was officially added to Miami's roster because Nathan Eovaldi and Henderson Alvarez were placed on the 15-day disabled list.
And Tuesday, Ozuna was called up from Jacksonville because Giancarlo Stanton went on the DL with a strained right hamstring. In his first three big league games, the 22-year-old Ozuna went 4-for-11 (.364) with a double.
A year ago, Ozuna and Fernandez were teammates at Class A Jupiter.
The Marlins are in a reshaping process, and the long-term plan is to develop a talented group of prospects that include Fernandez and Ozuna. Players like Fernandez and Ozuna are expected to be part of the nucleus of the club for years to come.
Now, they are learning in the big leagues.
"Are there some growing pains with that? For sure," Redmond said. "When you're bringing up young guys, there are going to be struggles. How many rookies come up to the big leagues and hit .320 or have the type of year [Bryce] Harper had?"
Harper, of course, was the 2012 National League Rookie of the Year for Washington at age 19.
The Marlins still have highly regarded prospects like outfielder Christian Yelich and second baseman Derek Dietrich, who are gaining valuable experience at Double-A.
The hope is to keep them at Jacksonville, at least until sometime in June.
"At the same time, you can bring guys up and you can develop them," Redmond said. "You can get them as part of the team and get them used to the culture and teach them how to play the game the right way. Those guys can learn in the big leagues and still have some success, and that's even better."
Joe Frisaro is a reporter for MLB.com. He writes a blog, called The Fish Pond. Follow him on Twitter Share This