Marlins call on Ozuna to man Stanton's post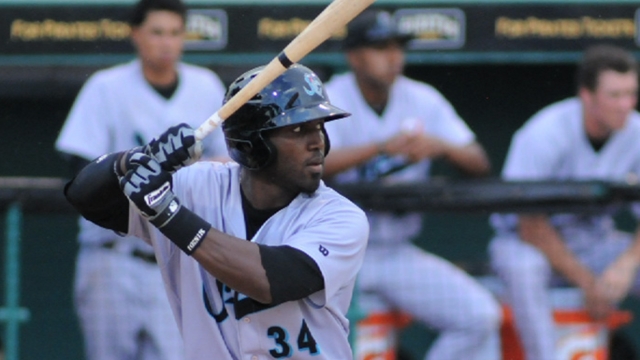 MIAMI -- Late Monday night, Marcell Ozuna relaxed and watched a movie after posting two hits and an RBI for Double-A Jacksonville.
"A couple of hours later, everybody was saying, 'What happened?' " Ozuna said. "I was like, 'I don't know.'"
Friends and Jacksonville teammates were getting Ozuna's attention to alert him that Giancarlo Stanton was injured.
The news created waves from Miami to Jacksonville. After the Marlins outlasted the Mets, 4-3, in 15 innings, the club placed Stanton on the 15-day disabled list with a Grade 2 strain of his right hamstring. Stanton is expected to miss at least three to four weeks.
Ozuna, 22, was recalled from Jacksonville to replace Stanton in right field.
"I saw on TV, Stanton got hurt," Ozuna said Tuesday afternoon. "I wasn't thinking I was coming here. I was thinking they had Triple-A guy."
Working in Ozuna's favor was the fact he already was on Miami's 40-man roster. If the organization opted for a Triple-A player, a 40-man subtraction would have had to be made.
Jacksonville manager Andy Barkett informed Ozuna that he was heading to Miami.
"When I received the call, I was very excited," the Dominican Republic native said. "I didn't sleep last night."
Marlins manager Mike Redmond is wasting little time getting Ozuna in the lineup, batting him sixth and playing him in right field.
Ozuna is the Marlins' No. 6 prospect, according to MLB.com. The power-hitting outfielder was named the Southern League's Player of the Week for April 29. In 10 games for Jacksonville, he is batting .333 with five home runs and 15 RBIs.
He opened the season on the Minor League disabled list with a fractured left wrist. But since returning, he has been a force in the Suns' lineup.
A year ago with Class A Jupiter, Ozuna batted .266 with 24 home runs and 95 RBIs.
He's a high-energy player, and aggressive hitter, who must show plate discipline to succeed at the big league level.
"He's an easy going guy, always smiling," Redmond said. "Last year, I managed against him in the Florida State League. I just like the way he played. It was like he was having fun out there, and it's a game."
Redmond last year managed Dunedin in Toronto's system. He recalls seeing Ozuna, who was with Jupiter, looking a little sloppy in appearance.
"When I saw him, he had one pant leg down, and one up here like this," Redmond said. "I was like, 'Man, what's wrong with this guy?' I don't know if it was on purpose or not. He looked like a mess out there. I kind of liked this guy. This guy is just having fun.
"He's aggressive. He's going to come out and swing the bat, but he's got a lot of power. I think he will always have to work on getting good pitches to hit. I think he has that ability to swing the bat. The way he plays, he has nothing to lose. Sometimes those guys with nothing-to-lose attitudes are really good."
Joe Frisaro is a reporter for MLB.com. He writes a blog, called The Fish Pond. Follow him on Twitter Share This