Stanton knocks rust off in return to lineup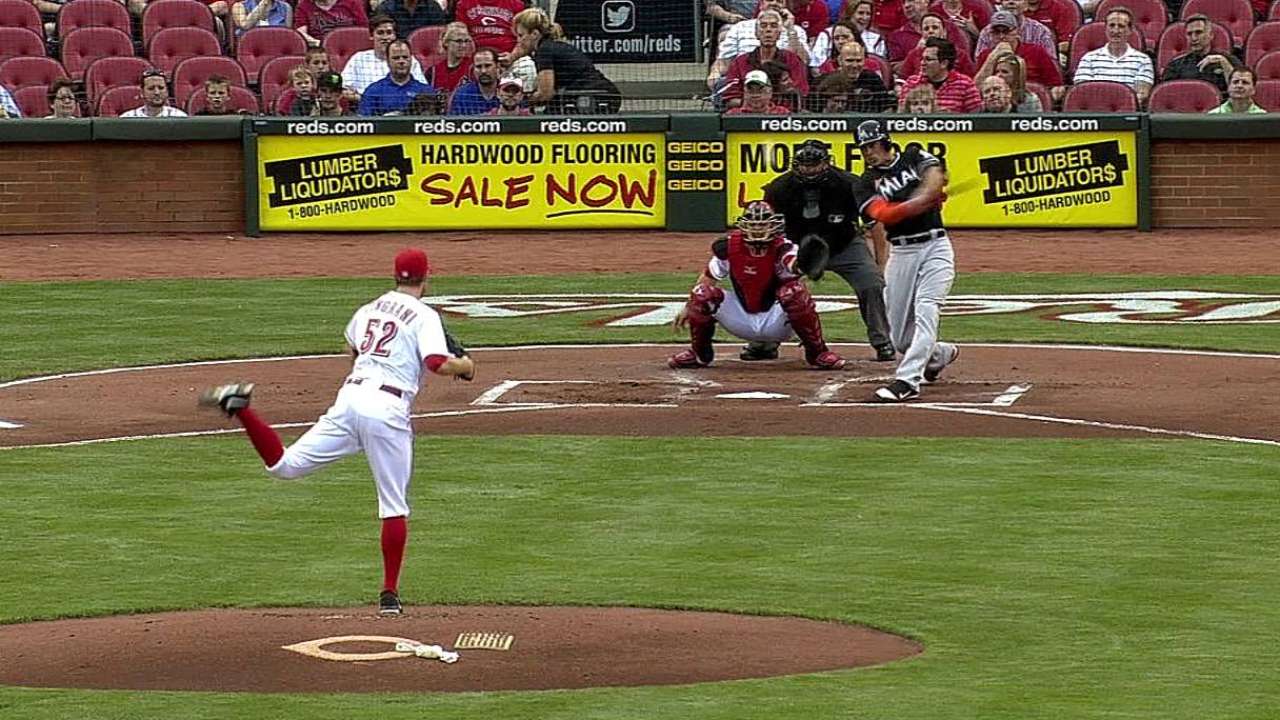 CINCINNATI -- All-Star outfielder Giancarlo Stanton, who missed six games with a bruised left shoulder, returned to the Marlins' lineup on Thursday, going 1-for-3 with a walk in an 11-1 loss to the Reds.
He also had two errors in right field, both on scoring plays for the Reds -- one in the second inning and one in the fifth.
"He looked comfortable [at the plate]," Marlins manager Mike Redmond said. "He's been out for six days, so it's going to take him some time to get back in the rhythm of seeing pitching and being out there again."
"It's feeling all right -- good enough to be in there," Stanton said before the game. "It's not 100 percent, but it's ready to go."
Stanton tweaked the shoulder while making a diving catch of a ball off the bat of the Mets' Kirk Nieuwenhuis on April 5. Stanton said he felt fine after he made the catch, but he felt some discomfort once the team got back to Miami a few days later.
"[The pain] didn't really come around until we got home," Stanton said. "I didn't even know what to attest it to. [The diving catch] is the only thing I could [think of]."
Stanton missed six games from April 12-17. Miami went 2-4 in his absence.
"Obviously it's nice to have Stanton back in the lineup," Redmond said. "I'm glad he's feeling better. Hopefully the rest did him good -- not just physically, but mentally."
Stanton is batting .167 with no home runs or RBIs in nine games this season. He remains, however, one of the most prolific power hitters in the game; his home run totals have increased from 22 to 34 to 37 in each of his three years in the big leagues.
"I don't like sitting and watching the game," said Stanton, who didn't give an exact percentage on his shoulder. "I'd rather be participating."
Tony Meale is a contributor to MLB.com. Marlins beat reporter Joe Frisaro contributed to this report. This story was not subject to the approval of Major League Baseball or its clubs.