Former Dodgers ball boy helps honor Jackie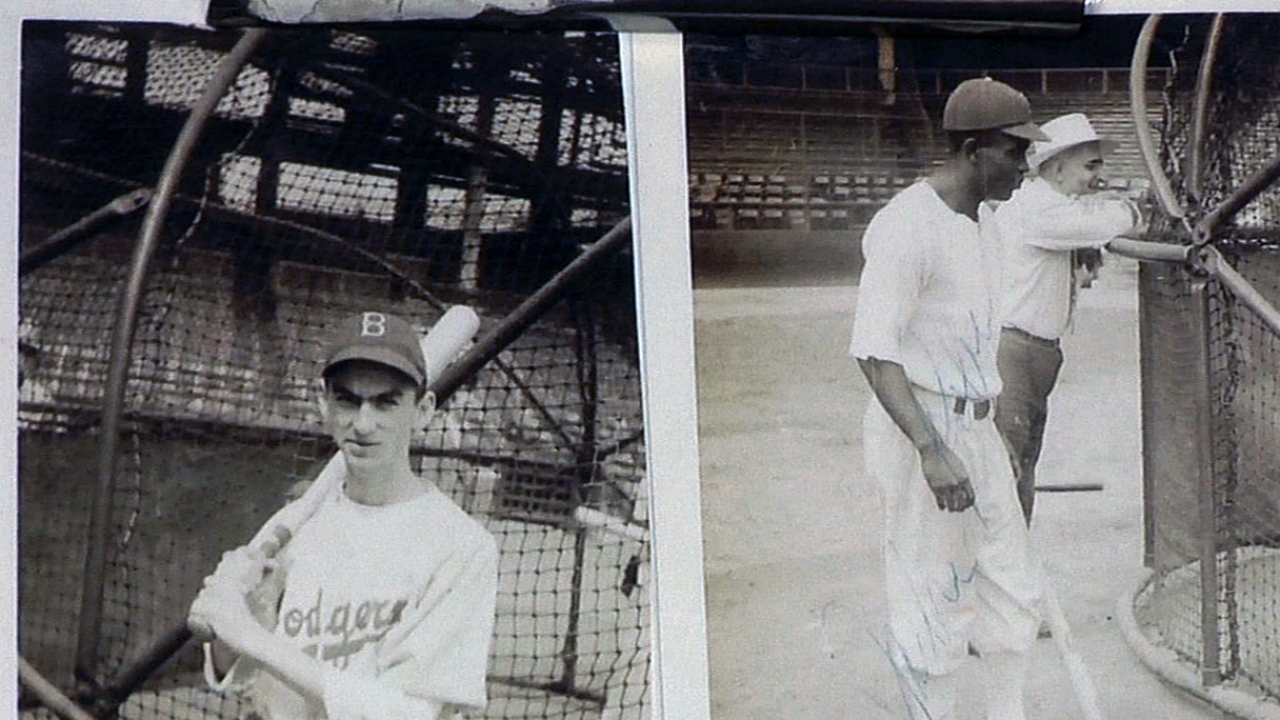 MIAMI -- What Jackie Robinson experienced while breaking in with the Brooklyn Dodgers in 1947, Norman Berman witnessed from his seat just outside the dugout at Ebbets Field.
In 1947, the year Robinson broke baseball's color barrier, Berman was a 19-year-old ball boy.
Brooklyn-born and -raised, Berman was an aspiring second baseman, in the Dodgers' system as a teenager. He had talent but lacked size, and that led to the end of his playing days. Still, he was lured back into the sport and paid $7 a game to be a ball boy.
On April 30, Berman will turn 85. Now a resident of West Palm Beach, he was at Marlins Park on Monday night, throwing out a ceremonial first pitch as Major League Baseball celebrated Jackie Robinson Day. In 1997, under the direction of Commissioner Bud Selig, Robinson's No. 42 was retired across all of Major League Baseball in an unprecedented tribute.
Berman was one of two special guests, as Pastor Joel Osteen also threw out a ceremonial pitch. Osteen was on hand to promote his upcoming "America's Night of Hope," which is taking place at Marlins Park on Saturday at 7 p.m. ET.
A lifelong baseball fan, Berman had never thrown out a first pitch before Monday.
"It's an honor," Berman said.
Berman uses a cane for balance, but when it came time to throw, he put it to the side.
He saw the movie "42" on Thursday, and said that the scenes in the movie accurately reflect the struggles Robinson went through.
"They called him every word," he said. "I don't use those words. I was brought up where you took a person for who [they] are, and you didn't ask them what their religion is."
Berman doesn't believe that just any man could have endured what Robinson did.
"He was intelligent. College man," he said. "He played three or four different sports, and he was so great to talk to. He always had a smile on his face when he talked to me. I told him, 'I wanted to be a ball player. I just had to gain some weight.'
"Then we'd have a catch. I'd never go to him when he was playing pepper with the other guys, or if he was talking to somebody. Only when he was alone. Sometimes, when he was alone, I'd take the ball and throw it up in the air and catch it. That was my call to him. 'Could we have a chance now?' He'd say, 'Yeah.'"
To honor Robinson's legacy, every player in the Major Leagues on Monday is wearing No. 42. In addition, the Marlins presented a check to the Jackie Robinson Foundation.
"You circle this day on the calendar," left fielder Juan Pierre said. "It's pretty cool to wear that number."
Pierre was touched to be able wear No. 42 when he played with the Dodgers from 2007 to 2009.
"That was like, 'Whoa!' It was almost like the same uniform," he said. "The same colors. That was pretty cool."
To Pierre, Robinson's legacy far outreaches baseball.
"Just the type of man he was," he said. "Baseball is almost kind of secondary. He was the first black player, but there have been many great baseball players. We don't celebrate them like we do him. I think it's more of the man behind it."
With the release of "42," a new generation is hearing the story of the Hall of Famer who did so much to advance civil rights for all.
"It's starting to gain steam," Pierre said. "In baseball circles, everybody knows him. But people not in baseball circles, with this movie coming out, people who are not even baseball fans will be watching."
Joe Frisaro is a reporter for MLB.com. He writes a blog, called The Fish Pond. Follow him on Twitter Share This