Slugger Stanton learning to take walks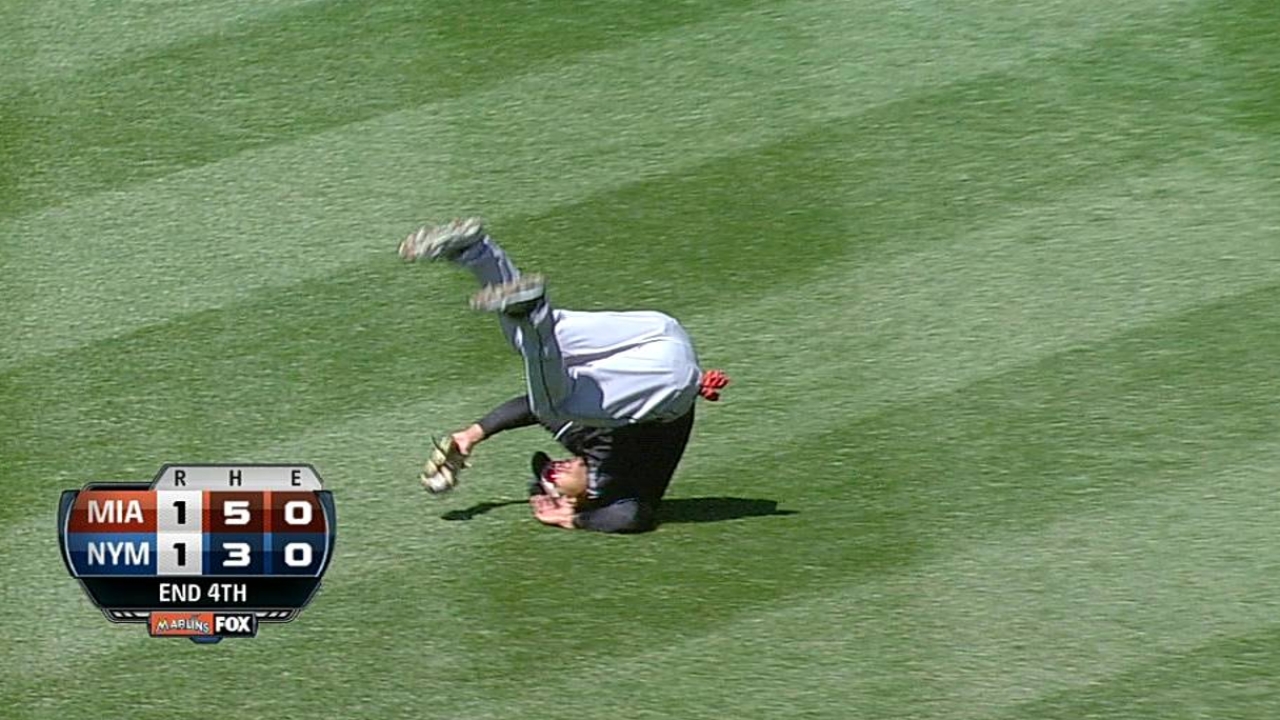 MIAMI -- Since the start of Spring Training, one of the most asked questions regarding the Marlins has been: Will teams pitch around Giancarlo Stanton?
Monday night was the first time in seven games that the indication was clearly yes.
Braves left-hander Paul Maholm was not willing to challenge the Miami All-Star right fielder. Even with two outs and no one on in the first inning, Stanton walked.
By the time the game ended in a 2-0 Atlanta victory, Stanton walked three times and struck out once.
"Stanton did a good job laying off some pitches," Marlins manager Mike Redmond said. "You could clearly see that they weren't going to give him anything to hit. Whereas, in the last few days, he has gotten some pitches to hit. They clearly weren't going to give him anything."
Atlanta's approach was certainly different than other teams during the six-game road trip to open the season. At Washington and New York, Stanton had pitches to hit.
One reason Maholm didn't go after Stanton was because left-handed-hitting Greg Dobbs was behind him.
"I wasn't technically trying to go right at him," Maholm said afterward. "Left-on-left was coming up next. If he wanted to swing at one of my pitches, that was great. But I'm not going to give him a cookie to hit and allow him to do damage. I was trying to get him to fish and not really be able to make solid contact."
That's why Stanton was seeing full-count off-speed pitches.
The three walks gave Stanton seven on the season, tied for third most in the Major Leagues entering Tuesday. Only Joey Votto (10) and Albert Pujols (8) had more free passes.
"Right now, he's just going to have to be patient," Redmond said. "It's one thing to sit here and talk about it and talk to him about it. But I'm not the one going out there. It's him. He's going to be fine. He's just got to prepare himself to be ready to hit."
Without another serious power threat in the lineup, Stanton is targeted as the player other teams will not let beat them.
Even sluggers on stacked lineups have to be willing to take their share of walks.
"Not ideal, but I'm not worried," Stanton said.
Teams will be looking to frustrate him, so it will be a matter of him having the patience not to chase pitches.
"It's a difference of [the count being] 2-2 or 3-1," he said. "It's a whole different ballgame when you bear down and know what they are going to do to you or not. You have to. Otherwise, you're going to self destruct."
Joe Frisaro is a reporter for MLB.com. He writes a blog, called The Fish Pond. Follow him on Twitter Share This