Kearns, Olivo, Valaika among options for first base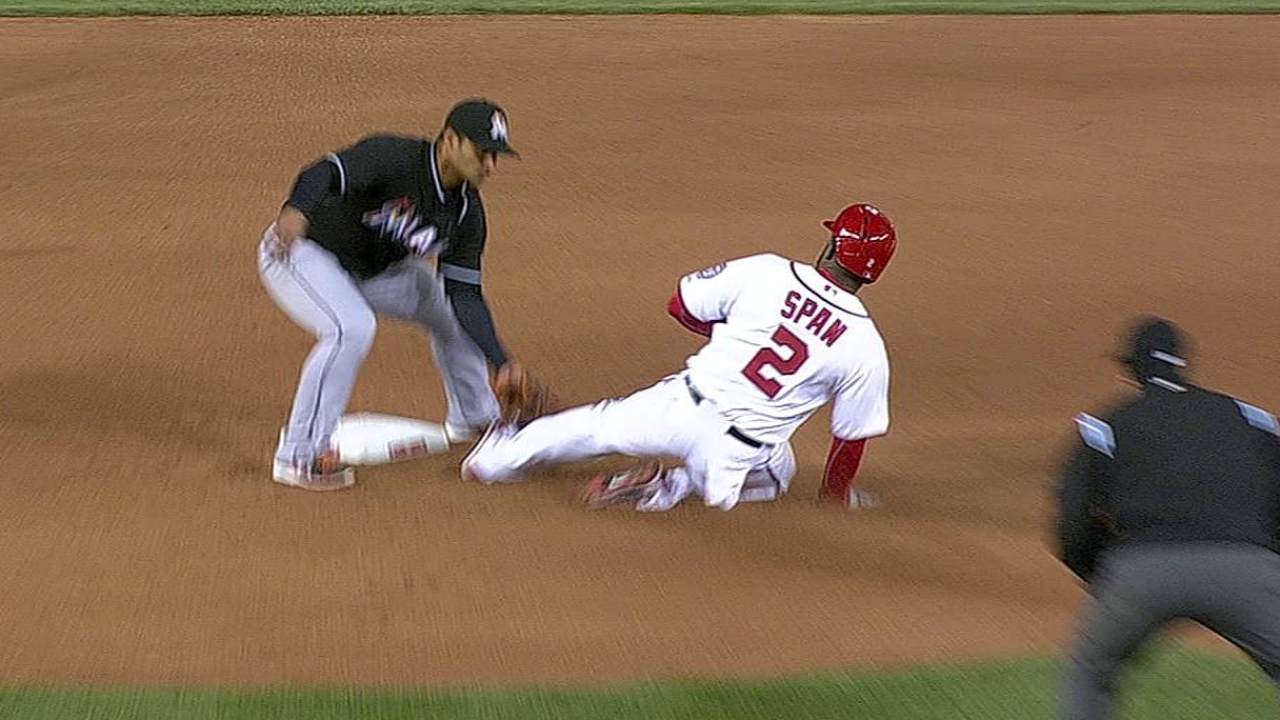 NEW YORK -- Previous experience not necessary when it comes to playing first base for the Marlins.
The injury to Casey Kotchman, on the disabled list with a left hamstring strain, has severely tested the organization's limits at the position.
Miami has three first basemen down with injuries: Kotchman, Joe Mahoney and Logan Morrison, who is on the 60-day DL.
The shortage has the team scrambling for options.
Before batting practice on Friday at Citi Field, a handful of potential candidates were fielding ground balls at first base. In the mix was catcher Miguel Olivo, outfielder Chris Coghlan, utility infielder Chris Valaika and outfielder/first baseman Austin Kearns.
Valaika has been letting a couple of the players borrow his first baseman's mitt.
"That's how it's been so far. We have four guys over there and only three gloves," manager Mike Redmond said. "That's kind of the situation we're in. We've had some guys get banged up, and we're down a couple of starting pitchers. Now, losing Kotchman -- but really we've lost a couple of first basemen."
Olivo saw limited action in five games at first base with the Marlins in 2006. That season, then-manager Joe Girardi used the veteran catcher in double-switch situations.
"I'm an athlete. I can play everywhere," Olivo said. "It's going to be a little bumpy. I've been playing catcher for so long. To help the team, to help my teammates, I'll do anything."
Redmond hasn't ruled out starting Olivo at first base, especially against a left-handed starter. Jon Niese, a lefty, will be starting on Saturday afternoon for the Mets.
Coghlan, primarily an outfielder since his 2009 National League Rookie of the Year season, played mostly third base and second in the Minor Leagues.
"I told [Redmond], I can do it, there is no doubt," Coghlan said. "I've been playing infield my whole life. It's the same thing, just a different angle. I don't have to make the throw.
"Any time you lose starters, that stinks. But, you've got to step up. If you don't, you sink."
Because Coghlan has never played first base, chances are, he won't be called upon to make any starts, especially in the upcoming days or weeks.
"We're going to throw somebody over there and see how it goes," Redmond said.
Joe Frisaro is a reporter for MLB.com. He writes a blog, called The Fish Pond. Follow him on Twitter Share This