Kotchman latest Miami first baseman to hit DL
Veteran strains hamstring, will join Morrison, Mahoney on Friday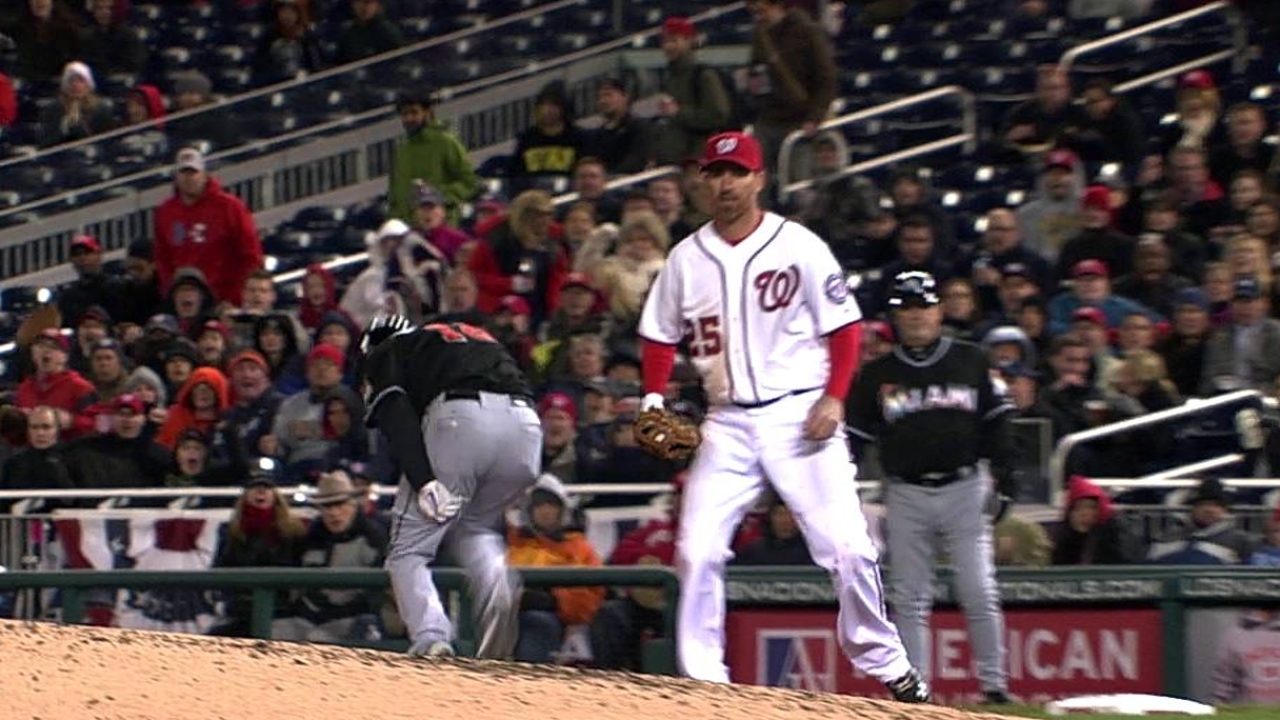 WASHINGTON, D.C. -- Two games into the new season, the Marlins are now down three first basemen.
Finding a healthy option has become a serious challenge.
Manager Mike Redmond said on Thursday afternoon that Casey Kotchman will be placed on the disabled list on Friday.
"It happens," Kotchman said. "That's the way it goes."
The veteran first baseman strained his left hamstring in the fifth inning of Wednesday's 3-0 loss to the Nationals.
"He was pretty sore this morning, like we anticipated," Redmond said. "It's not something where he's going to bounce back in the next couple of days."
On the DL, Kotchman will join Joe Mahoney, who is recovering from an intercostal strain, retroactive to March 22. Technically, Mahoney could be reinstated as early as Saturday, but he is seven to 10 days away from game action.
Logan Morrison is on the 60-day DL, and the earliest he can be activated is May 30.
"I don't know if I've ever been around a team that hasn't had multiple first basemen," Redmond said. "It's kind of odd that we're sitting talking about three injured first basemen already this spring. It's definitely been a challenge. We've had a few injuries we're trying to overcome."
The Marlins anticipate having another player join the team on Friday when they open a three-game set at the Mets. Most likely the player will be someone already on the 40-man roster. And the player doesn't necessarily have to be a first baseman.
Greg Dobbs is expected to get most of the work at first base in the short term. Austin Kearns, Chris Valaika and possibly catcher Miguel Olivo could fill in, depending on matchups.
"We have a little bit of a tryout over there at first base as we try to figure it out," Redmond said. "We're going to spend the next few days getting some guys work over there and see what our best options are."
If the Marlins do call up someone from their 40-man roster, catcher Kyle Skipworth is an option. Olivo was taking ground balls at first base in warmups on Thursday, and Skipworth would add an extra catcher. Dobbs and Kearns likely will see most of the action at first.
Kotchman was injured when he hit a double-play ground ball and stumbled as he crossed first base.
"I heard a pop probably two or three strides before the bag, and then kept running," Kotchman said. "When I got to the bag, I fell down."
Kotchman made the club as a non-roster invitee. He will remain with the team for the rest of the road trip receiving treatment.
At this point, no MRI exam has been taken, and it is too early to determine when he may be ready.
"I'm trying to get it back as quickly and efficiently as I can," Kotchman said.
Joe Frisaro is a reporter for MLB.com. He writes a blog, called The Fish Pond. Follow him on Twitter Share This