Nicolino impresses in Major League debut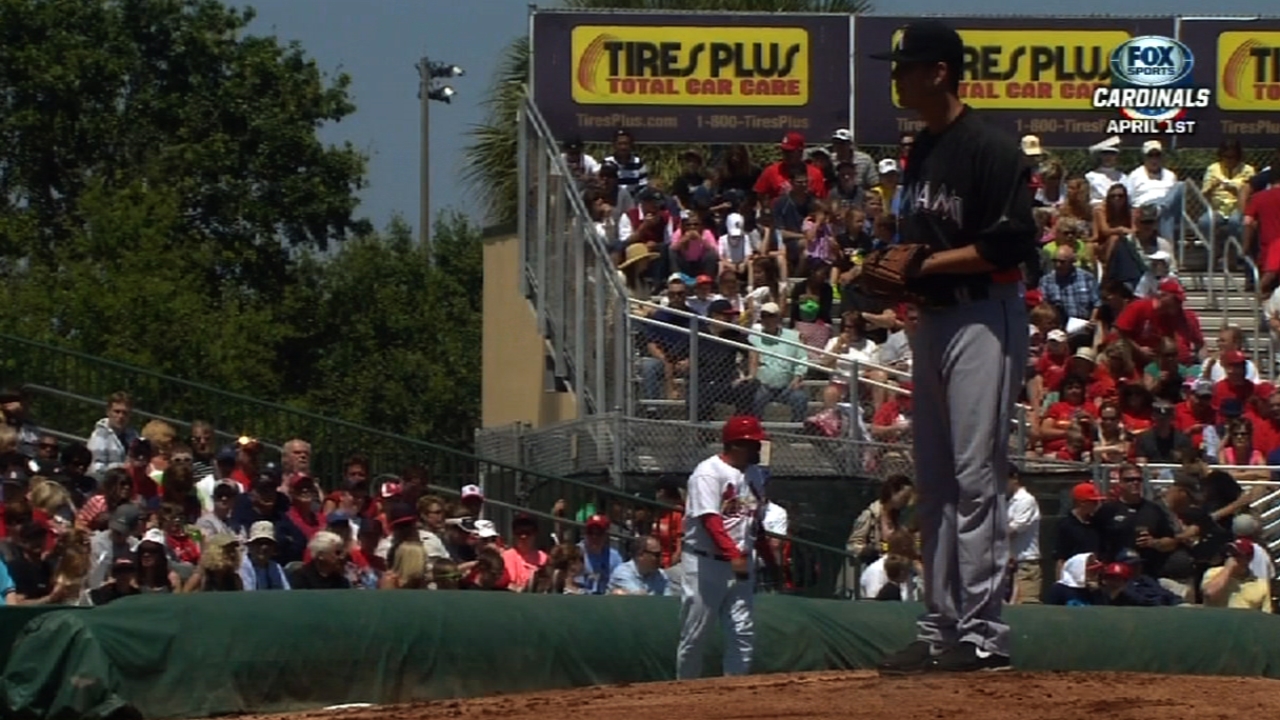 JUPITER, Fla. -- When Justin Nicolino was growing up, one of the players he looked up to was Juan Pierre. Growing up an avid baseball fan in Orlando, Nicolino even got to meet Pierre when he came to Lake Buena Vista to play the Braves during Spring Training.
In the Marlins' Grapefruit League finale against the Cardinals at Roger Dean Stadium on Thursday, he and Pierre took the field for the same team.
The 21-year-old left-hander, the front-runner to open Class A Jupiter's season on April 4, started in his Marlins debut.
In five innings, Nicolino allowed only a first-inning run, scattering six hits while striking out three and walking none in Miami's 1-0 loss. He threw 67 pitches, 41 for strikes.
"Getting to experience that -- getting to be in that clubhouse and the dugout today -- I can't ask for much more, especially to end Spring Training," Nicolino said.
When he received the news from pitching coordinator Wayne Rosenthal on Monday that he'd be starting, his parents were already scheduled to watch him pitch against the Mets in a Minor League scrimmage. They made the trip down from Orlando.
The 6-foot-3, 160 pounder, drafted by the Blue Jays in the second round of the 2010 First-Year Player Draft out of University High in Orlando, was acquired in November's 12-player trade between Miami and Toronto.
Rated by MLB.com as the fourth-best prospect in Miami's organization, he is ranked No. 72 overall and No. 7 of all left-handed pitchers.
Last season in the Midwest League, Nicolino went 10-4 with a league-best 2.46 ERA in 28 games -- 22 starts -- for Class A Lansing. In 124 1/3 innings, he walked just 21 batters and struck out 119. He was named Topps Mid Player of the Year in 2012.
Marlins manager Mike Redmond, who was Nicolino's manager at Lansing, wanted to give the young pitcher the experience and see how he responded.
"One of the things I loved about managing him was that he was such a great competitor," Redmond said. "When he was out there and took the ball he was trying to win and he showed that today. A lot of our guys were pleasantly surprised and amazed by how poised he was for a young kid in a big stage.
"For a young kid to come up here and show that much poise and confidence facing such a big league lineup -- a legitimate big league lineup -- that was good to see. … Huge test, and he passed for sure."
Christina De Nicola is a contributor to MLB.com. This story was not subject to the approval of Major League Baseball or its clubs.