Rehabbing knee, LoMo hopes to be back in May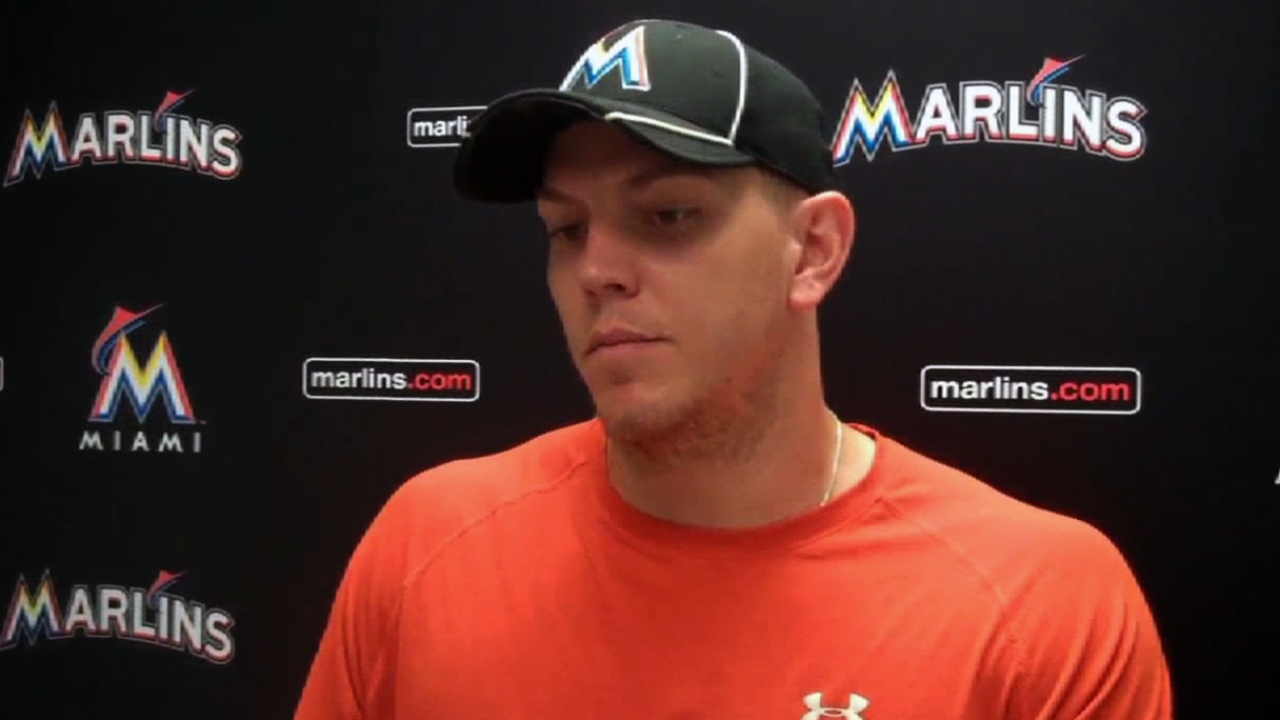 JUPITER, Fla. -- Marlins first baseman Logan Morrison stood pat Thursday as teammates packed their gear inside the clubhouse on the final day of Grapefruit League action.
This past September, Morrison had a second surgery on his right knee in less than a year. Veteran Casey Kotchman, who signed a Minor League deal with an invitation to Spring Training in February, will start in the place of Morrison, who will open the season on the disabled list.
"I just hope to be in the big leagues by early, middle May," Morrison said. "I don't really know how that's going to fall or when I need to start playing down here. You have to go through the whole production of play a day, play three innings, don't play the next day, then play two days in a row and don't play that day."
If the team feels he will not be ready until closer to June, there is a chance Morrison will be placed on the 60-day DL, which could open a 40-man roster spot.
"I didn't anticipate it would be this long," president of baseball operations Larry Beinfest said. "I'm not sure LoMo did either, but it is what it is and we've just got to get him healthy. He's starting to pick up some baseball activity, which is a good thing, he's just got to get on his legs."
The 25-year-old, who will begin running on the field and anticipates taking ground balls next week, is at 90 percent on the anti-gravity treadmill. He has swung a bat in the cages, but has yet to take batting practice.
Since a player only gets 20 rehabilitation days, Morrison will begin his progression in extended rehab before spending time at either Class A Jupiter or Double-A Jacksonville.
"It's been like the offseason," Morrison said of the spring. "All I do is work out. I get to talk baseball with the guys and be in the dugout, but for sure it's frustrating, because it's the same old story. Hopefully, once it's behind me, it's behind me for good, and laugh about it in 10 years."
Morrison was limited to 93 games a year ago -- bothered by that knee -- finishing with a .230 batting average, 11 home runs and 36 RBIs.
"I don't know when it starts to turn into anticipation -- right now it's more just frustration," Morrison said. "I took swings off a tee for the first time in eight months and I got really excited. When they told me I could start running in the bubble, in the [anti-gravity] treadmill, I got really excited. I think when I start playing -- even if it's in an extended [spring game] -- I'll be excited, and then that'll go away, and then let's go to Double-A. And then I'll be excited, and that'll go away and I'll be excited."
Christina De Nicola is a contributor to MLB.com. This story was not subject to the approval of Major League Baseball or its clubs.