Cishek, Stanton return to Marlins after Classic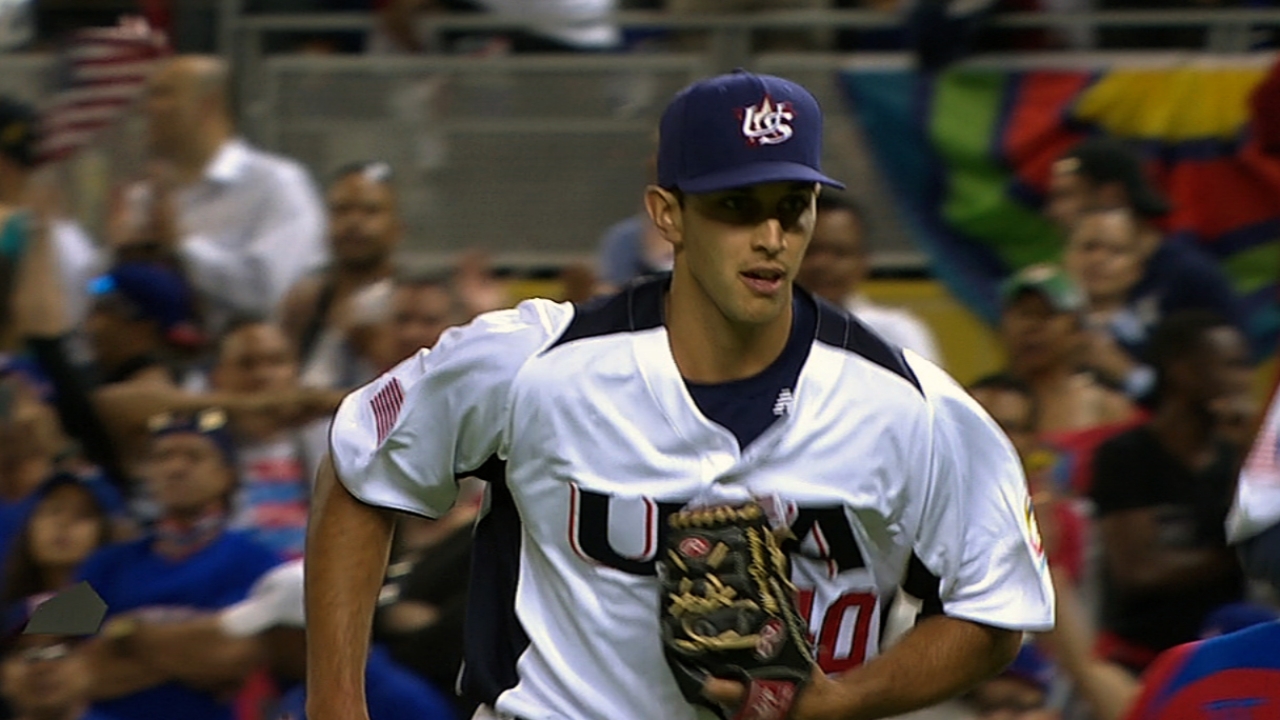 JUPITER, Fla. -- Giancarlo Stanton and Steve Cishek are back in Marlins camp after playing for Team USA in the World Baseball Classic.
The two standouts felt their time playing among the United States' best players was beneficial as they continue to prepare for the 2013 season.
"It was amazing to see all those guys' approaches, like [Joe] Mauer, [Ryan] Braun and [David] Wright," Stanton said. "I see Wright a lot, but it's different being on their side and not being in right field. You're actually able to see how they go about their business. I was amazed by it."
Stanton was particularly impressed by Mauer. The 23-year-old Stanton was amazed by the three-time American League batting champion's ability to hit in the toughest situations.
"He is unbelievable," Stanton said. "I started off batting behind him, so I was right there. You can get him 0-2 in every at-bat, and he has no problem with it. It is unbelievable."
Cishek, who appeared in four games for Team USA, thought the experience improved his ability to handle pitching in pressure-filled situations.
"Any experience you can get in those situations helps," Cishek said. "I don't think there is ever a time when you're comfortable in those situations, but having gone through it will help later in the year."
Cishek likes that the World Baseball Classic is played during Spring Training, saying it helps pitchers get ready for the season quicker. But Stanton feels the Classic would be best if played at midseason.
"For me, the ideal time is in the middle of the season, but that's never going to happen," Stanton said. "It is kind of like we are just getting started and thrown right into that big stage. You have plenty of time to get ready for it. For the guys that haven't played before, you've just got to get started a little earlier and get mentally prepared a little earlier for an atmosphere like that."
Both players kept up with their Marlins teammates while they were representing their country. The two are happy to be back in camp but acknowledge it was a bit disappointing to be back sooner than they had hoped.
"Obviously we would rather be going to San Francisco, because you go there to win," Cishek said. "We went with the objective to win it all, so it's disappointing. But at the same time, it's great to be around these guys again."
Stanton and Cishek would both be honored to represent the United States again in four years, especially because they have much left to accomplish.
"We still have to be the first ones to win," Stanton said. "USA still needs to win it, so it would be something good to try and do next time."
David Villavicencio is a contributor to MLB.com. This story was not subject to the approval of Major League Baseball or its clubs.