Urena targets strong finish against Rockies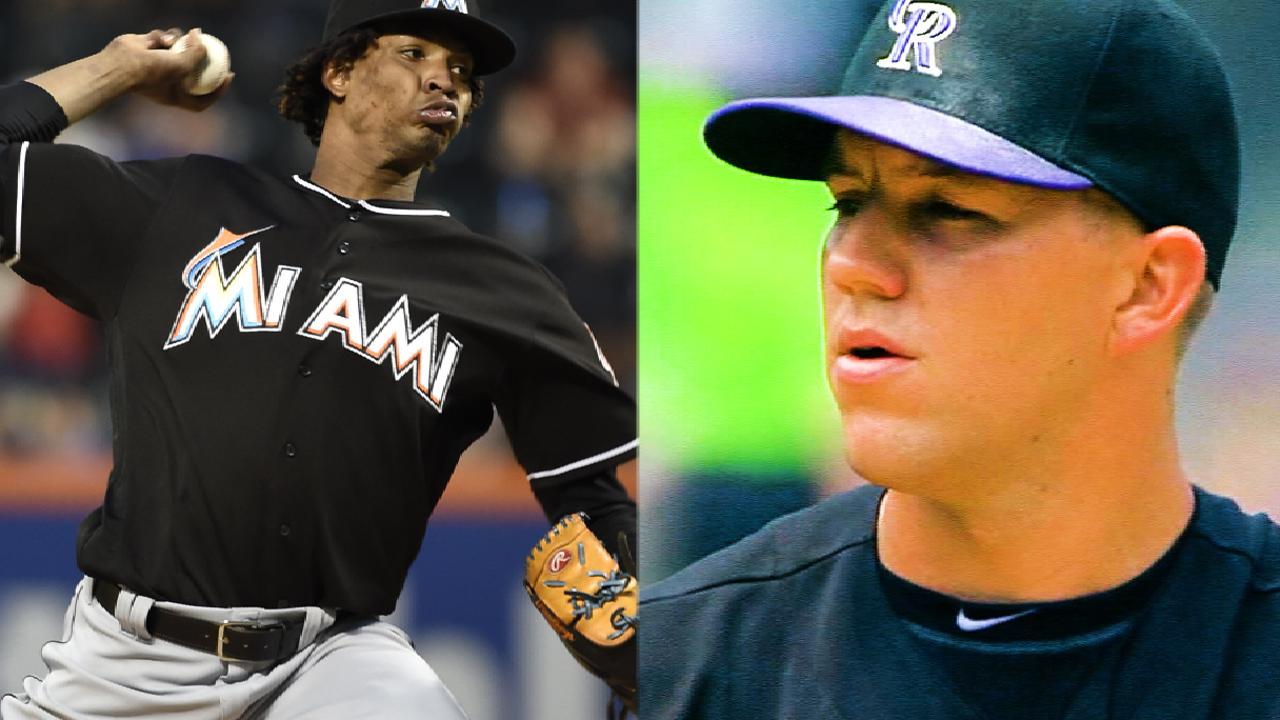 The Rockies and Marlins continue their three-game series Tuesday at Coors Field with both teams treating the matchup like a playoff series. The Rockies are 1 1/2 games up on the Brewers and 2 1/2 over the Cardinals for the second and final Wild Card spot in the playoffs.
Third-year pitcher Jose Urena looks to cap a breakout season in one of his final two starts Tuesday. He went from a 5-14 record with a 5.76 ERA in his first two seasons combined to a 14-6 record with a 3.55 ERA entering Tuesday's start.
"Jose's pitched more -- he's become less of a thrower," Marlins manager Don Mattingly said. "He's always been a guy with a power arm, power stuff, and was just still getting to the next level of trying to get the ball to both sides of the plate, use his breaking ball more often, use his offspeed, not just always trying to overpower guys.
"He's had success with us, he's a guy guys like playing behind, he works fairly quick, we know he'll be aggressive, he's not afraid, he's going to attack no matter who it is and who we're playing. And I think our guys respond to that, because they know he's going to be aggressive and be on the attack."
The Rockies counter with sophomore Tyler Anderson, who is making his 15th start (17 appearances) and his third start (fourth appearance) since coming off the disabled list Sept. 10, having missed more than two months with a knee injury. Anderson is 2-1 with a 1.72 ERA since his return, and batters are hitting him with just a .173 average and .250 slugging percentage. He is 7-5 with a 3.64 ERA in 18 career starts at Coors Field.
Three things to know about this game
• Charlie Blackmon is a career .375 hitter (3-for-8) against Urena, with a double and a walk. No Rockies has more than nine at-bats against the righty.
• Anderson has faced the Marlins once in his career, a 2016 start. Marcell Ozuna was 2-for-2 against him, and catcher A.J. Ellis was 2-for-3. No Marlin has an extra base hit against Anderson.
• In his 2016 rookie campaign, Anderson led the Majors with the lowest average exit velocity against (minimum of 300 batted balls) at 83.9 mph. Since coming back from the DL, Anderson ranks among the tops in the Majors with an 82.3 mph average exit velocity against.
Owen Perkins is a contributor to MLB.com based in Denver. This story was not subject to the approval of Major League Baseball or its clubs.