Stanton hits 54th HR, most in MLB since '10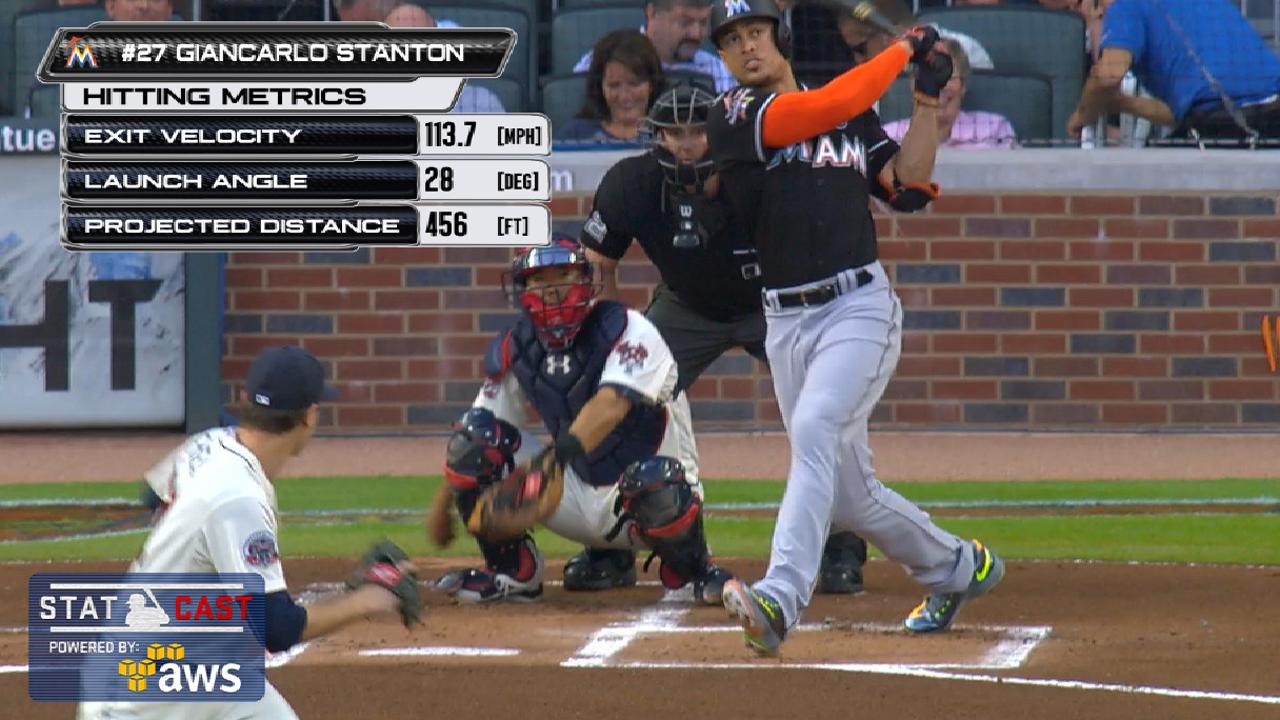 ATLANTA -- Getting a night off worked to Giancarlo Stanton's advantage on Saturday.
Stanton slugged a first-inning home run -- his 54th of the season -- but the Marlins were unable to preserve an early lead and lost 6-5 in walk-off fashion to the Braves at SunTrust Park.
The Marlins have now dropped 11 of 13, falling deeper off the pace in the National League Wild Card chase.
With 20 games remaining, Stanton continues his quest for 60 home runs. The NL Most Valuable Player Award candidate crushed a no-doubter to left-center off Braves rookie left-hander Max Fried.
Statcast™ projected the drive at 456 feet with an exit velocity of 113.7 mph. The towering shot had a 28-degree launch angle, and the apex of the home run was 106 feet.
Stanton was given Friday night off because manager Don Mattingly sensed the All-Star seemed a little sluggish. Stanton had started every game in right field since July 6. He did walk during a pinch-hit appearance in the ninth inning of Friday's 7-1 win.
Fried fell behind in the count, 2-1, then offered a 91.9-mph four-seam fastball that Stanton didn't miss.
No. 54 came off Giancarlo's favorite location: Low and away where he can extend his arms and rip. Lotta lasers hit from that spot. #Marlins pic.twitter.com/jkMaSQpX8S

— Matt Kelly (@mattkellyMLB) September 10, 2017
Stanton, who hit just two home runs at Turner Field, the Braves' former home, already has four at SunTrust Park, including three of the four longest there, per Statcast™. Stanton set the bar at the new home with his 477-foot drive on Aug. 4. His shot on Saturday is now second on the list, and Stanton is also fourth with a homer projected at 446 feet on Aug. 5.
Each tater is moving Stanton up an exclusive list.
Since moving to second in the lineup in late May, Stanton has 43 homers, and Miami has 48 home runs from the two spot -- the most in Major League history. The 1959 Milwaukee Braves knocked 47, with Hall of Famer Eddie Mathews compiling 46 of those.
It marked just the 25th time in Major League history that a player has had as many as 54 home runs, with the most recent being Jose Bautista of the Blue Jays in 2010.
Stanton has stated publicly that he hopes to reach at least 60 home runs, which has been achieved just eight times. Barry Bonds holds the single-season record with 73, set in 2001.
Batteries recharged, Giancarlo strikes again.

Through 140 games:

Ruth: 53
Maris: 55
Sosa: 58
McGwire: 62
Bonds: 64
STANTON: 54@Marlins

— Matt Kelly (@mattkellyMLB) September 9, 2017
The stretch Stanton has been on has made him one of the favorites to be the NL MVP Award winner. Stanton began his surge with two home runs on July 5 at St. Louis. Since then, he has connected 33 times in 59 games.
According to the Elias Sports Bureau, Stanton's 33 homers over his last 60 games -- or since July 4 -- are tied for third most in any 60-game span. Bonds belted 37 in 2001 and Sammy Sosa had 34 in 1998. Stanton and Mark McGwire ('96) each have 33.
Enhancing Stanton's chances is the fact 26 of his home runs have been go-ahead shots, most by any player since McGwire hit 30 in 1998.
Joe Frisaro has covered the Marlins for MLB.com since 2002. Follow him on Twitter @JoeFrisaro and listen to his podcast. This story was not subject to the approval of Major League Baseball or its clubs.