Stanton's streak ends, but Marlins jump on SF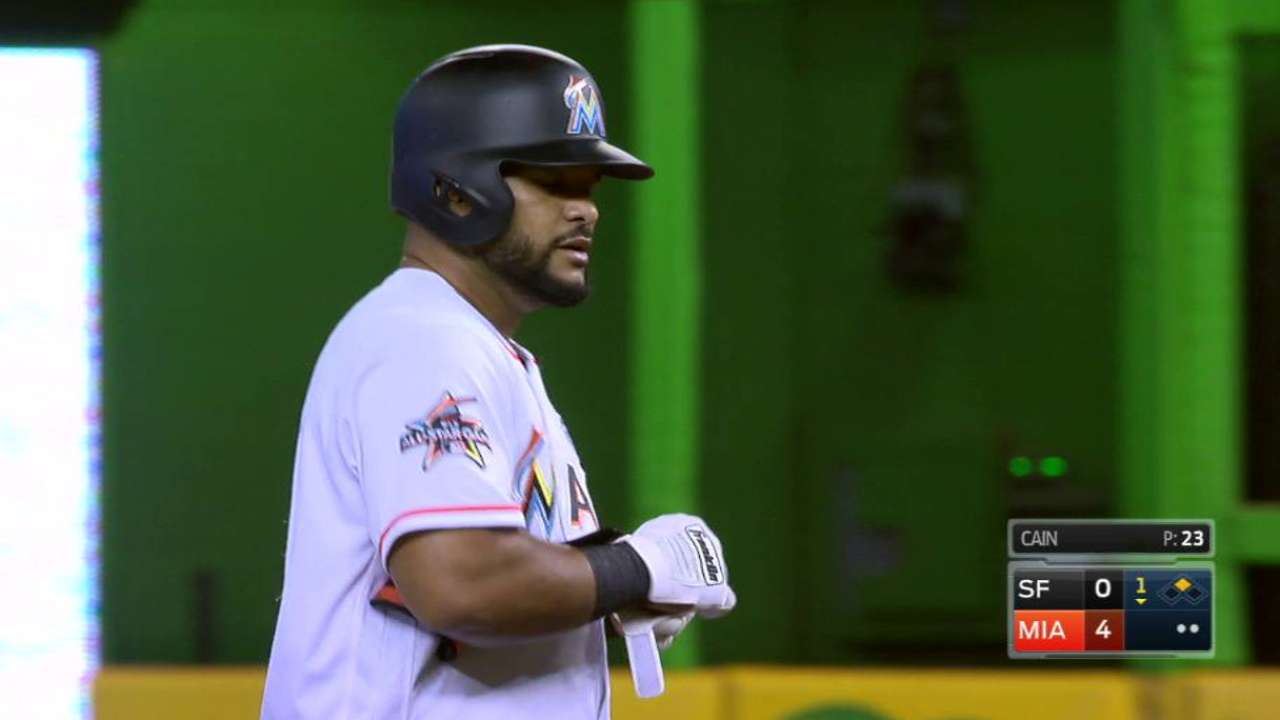 MIAMI -- The Giants kept Giancarlo Stanton in the ballpark on Wednesday afternoon, but they weren't able to contain Tomas Telis, who drove in three runs and scored another in the Marlins' 8-1 victory over the Giants at Marlins Park.
With the focus of the sporting world on Stanton, the four-time All-Star had two singles, but he also had his streak of six straight games with a home run come to a halt. Stanton went 2-for-4 and was hit by a pitch, a fastball by Matt Cain with the count full in the second inning.
"If I have good at-bats, it's a good day for me," Stanton said. "I ain't going to hit a homer 45 games straight."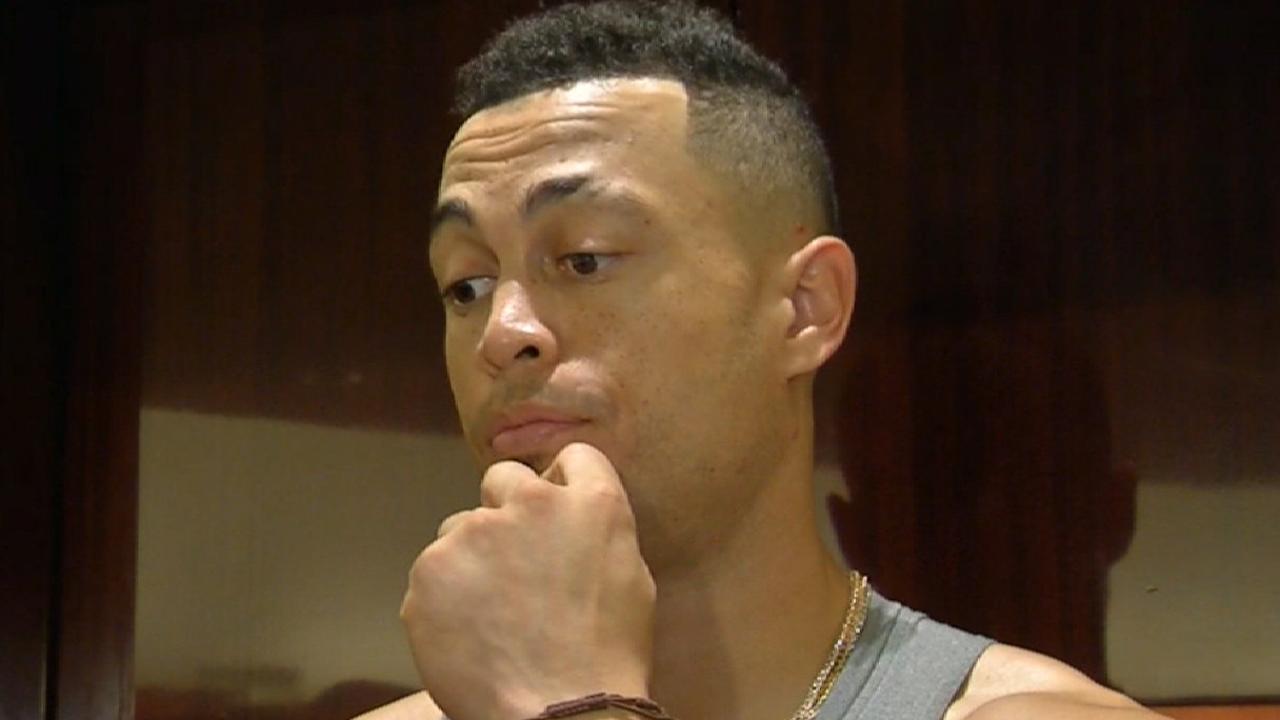 • HR streak halted, but Stanton eyes 62
Stanton's last chance came in the eighth inning, and off lefty Josh Osich, he singled to right.
"Well, I'd rather him hit a home run and we win the game," Giants manager Bruce Bochy said. "That would be my preference. I think we pitched him pretty good."
• Cain finds way to cool slugging Stanton
The MLB record for consecutive games with a home run is eight, shared by three players -- Dale Long (Pirates) in May 1956, Ken Griffey Jr. (Mariners) in July 1993, and current Marlins manager Don Mattingly (Yankees) in July 1987. Three more players reached seven -- Kevin Mench (Rangers) in April 2006, Jim Thome (Indians) in late June-early July 2002, and Barry Bonds (Giants) April 2004.
• Most consecutive games with home run
"For me, I looked at it really as more of a hot streak than anything else," Mattingly said of when he went eight straight games. "I wasn't really a home run guy, like Giancarlo. You just tried to ride that wave as long as you can. It's not necessarily the home runs. It's usually you're swinging the bat good in that stretch. That's really what G's been doing."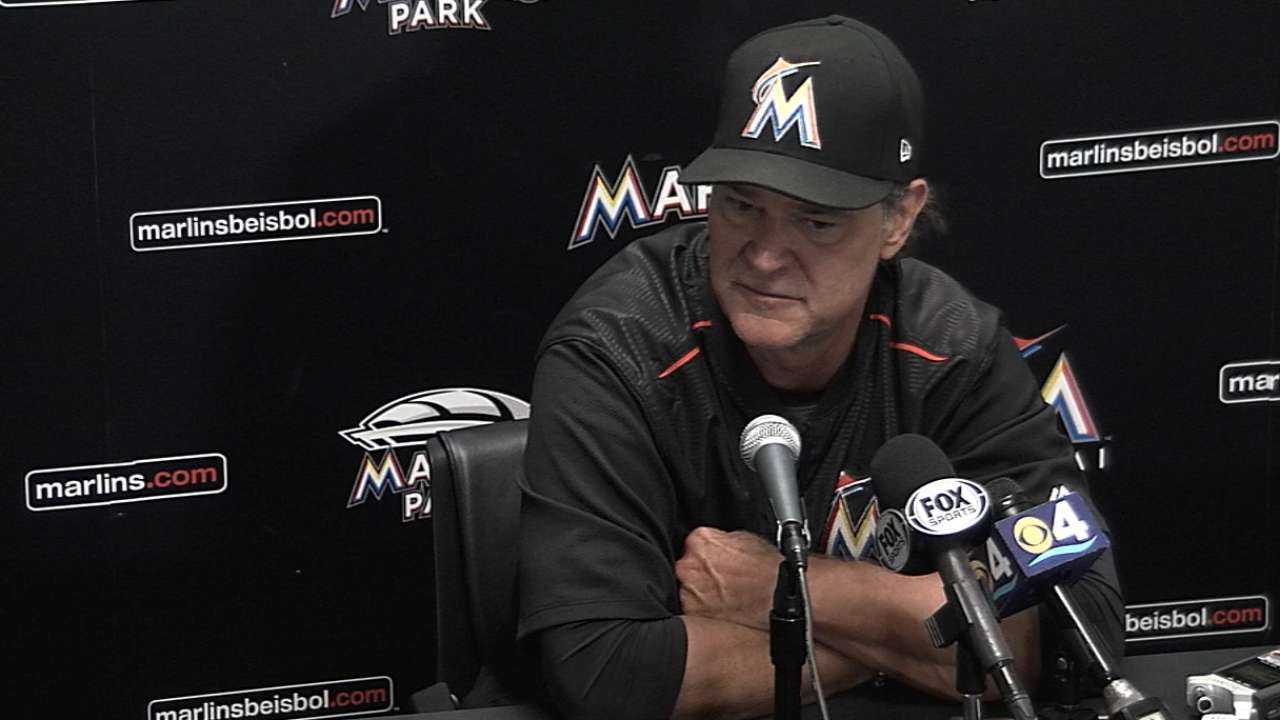 The Marlins took two of three in the series and went 5-1 on the homestand. San Francisco went 2-4 on the road trip.
Throughout his home run barrage, anticipation has built with every Stanton at-bat. In the first inning, the slugger floated a soft single to right, which was part of Miami's four-run inning. Three of the runs were unearned due to shortstop Brandon Crawford's error after he dropped a liner off the bat of Derek Dietrich. Telis had a two-run double in the inning.
Bochy said it was a rare sight to see his two-time Gold Glove Award winner drop a ball like that.
"I mean, that ball was smoked," Bochy said. "With the seats and everything, it could've been moving. I don't know. It doesn't happen often, but it's gonna happen. As good as he is, it's gonna happen."
MOMENTS THAT MATTERED
Stanton stays with approach: Despite his consecutive-game home run streak ending, Stanton stuck with his approach and delivered two opposite-field singles. In the four-run first inning against Cain, he floated the single to right, which advanced Dee Gordon to third. He didn't leave the ballpark with a homer, but he did score a run.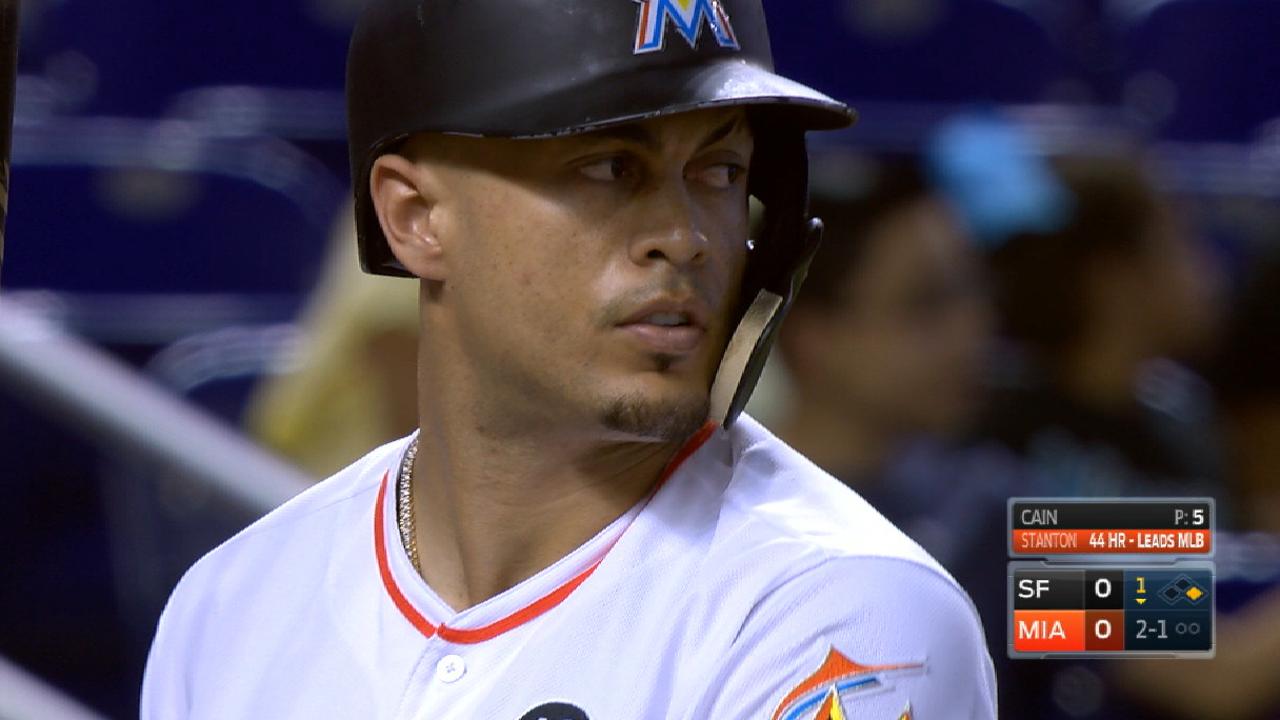 "The blooper is what killed us," Bochy said. "If we catch that ball or get to it -- but he just didn't get enough of it where [Hunter] Pence could get it -- it's a double play. It ends up first and third and kind of got things going for them that first inning."
Footrace to Flash: The sprint was a complete mismatch -- Gordon, a former MLB stolen-base champ, against Nick Hundley, the Giants' catcher. But the two found themselves in a footrace to first base in the third inning. Hundley tapped a grounder that was in between Telis at first, and while Jose Urena dashed to cover first, Gordon opted to take the grounder he collected to the base by himself. In a close play, Gordon beat Hundley for the third out. Fortunately, they avoided a collision. It was a big moment, as the Giants scored in the inning and had two on base.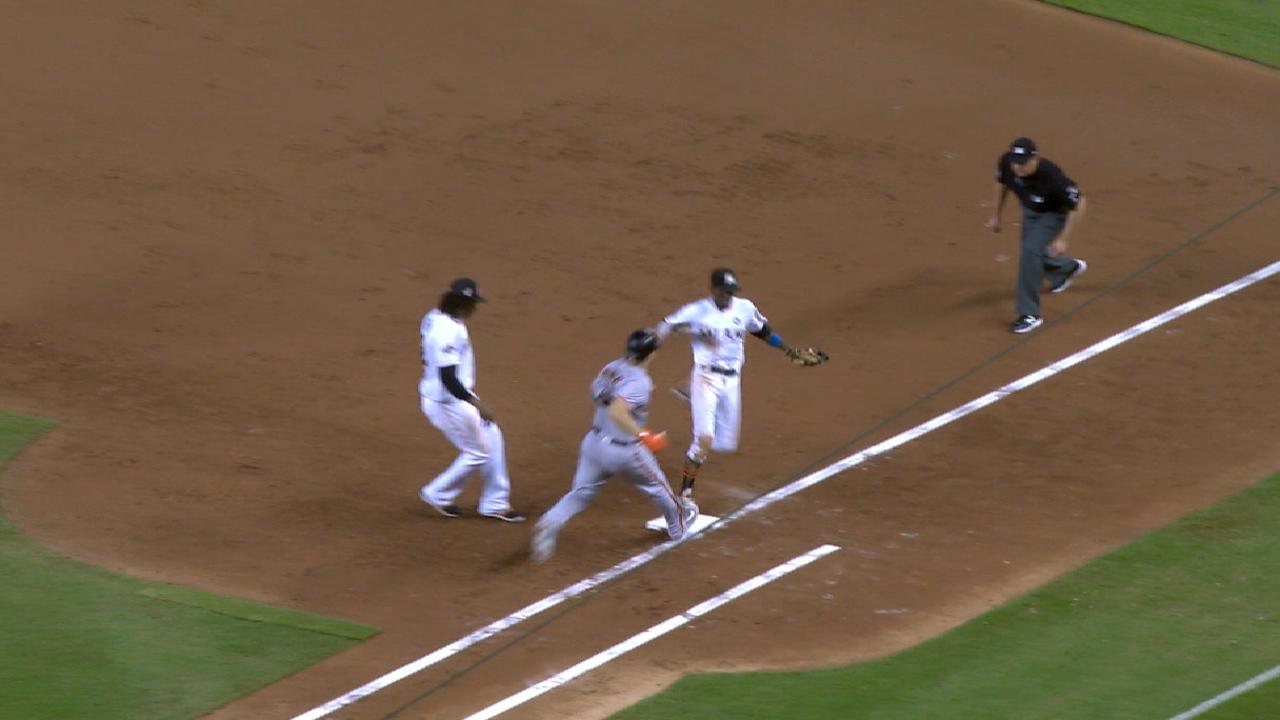 "I was trying to get an out," Gordon said, "because if I didn't make that out, the guy could have scored. I was just trying to get that out." More >
QUOTABLE
"Sure, you'd like to have a do-over, a mulligan on that first inning. It's a different ballgame. You know, catcher's interference, their run in, Stanton hits a blooper that we don't quite get to. That's a double play, and we don't quite get the double play on the ground ball. Matt just had some horrible luck in that inning." -- Bochy, on his club's two errors that led to a four-run first
"The guys told me, 'That was a Panda fight.' [Miguel] Rojas and Dietrich. Because we're similar bodies." -- Telis, on doubling off Pablo Sandoval in the eighth inning on Carlos Moncrief's liner. Telis and Sandoval scrambled on the ground trying to reach first base.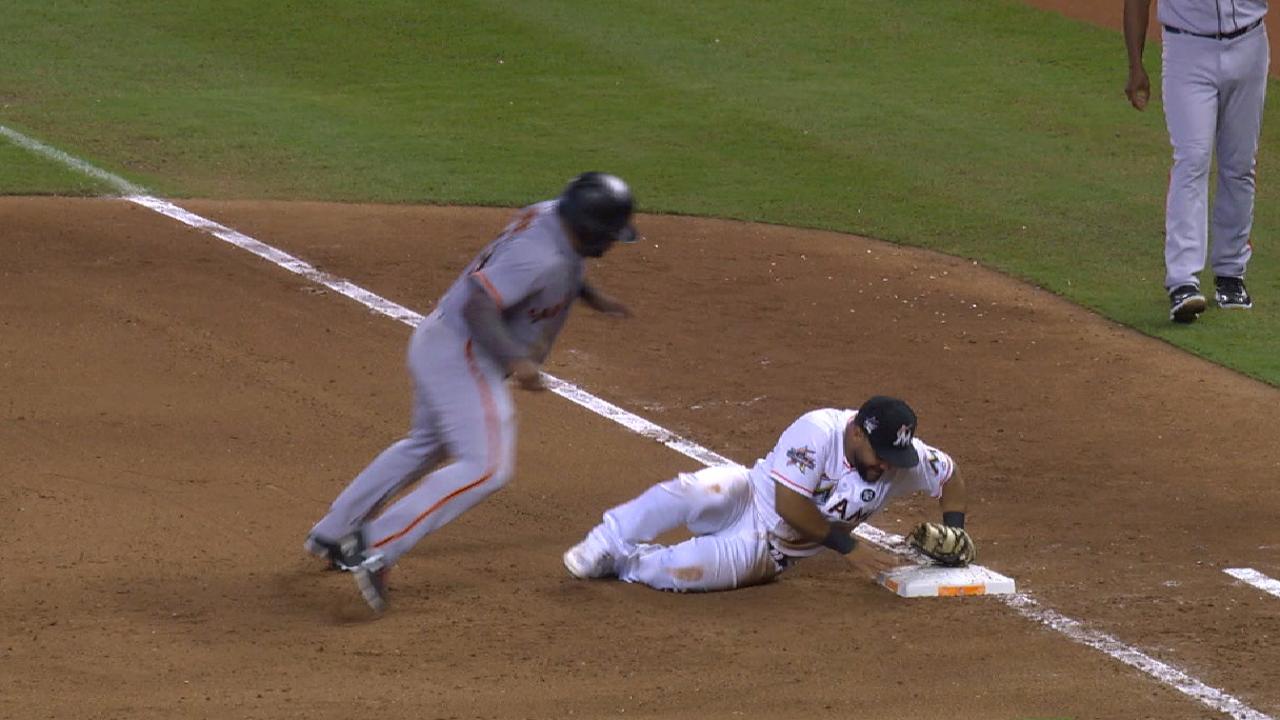 SOUND SMART WITH YOUR FRIENDS
With his RBI single in the fifth inning, Ichiro Suzuki now has 20 pinch-hits, moving within one of trying the Marlins franchise season record. Ross Gload had 21 pinch-hit hits in 2009. Ichiro had been tied for second with Lenny Harris, who had 19 in '05. On the Marlins' career pinch-hit list, Ichiro has 44, which is tied with Alex Arias (1993-97) for second most. Wes Helms is the franchise career leader with 56 from 2006-11.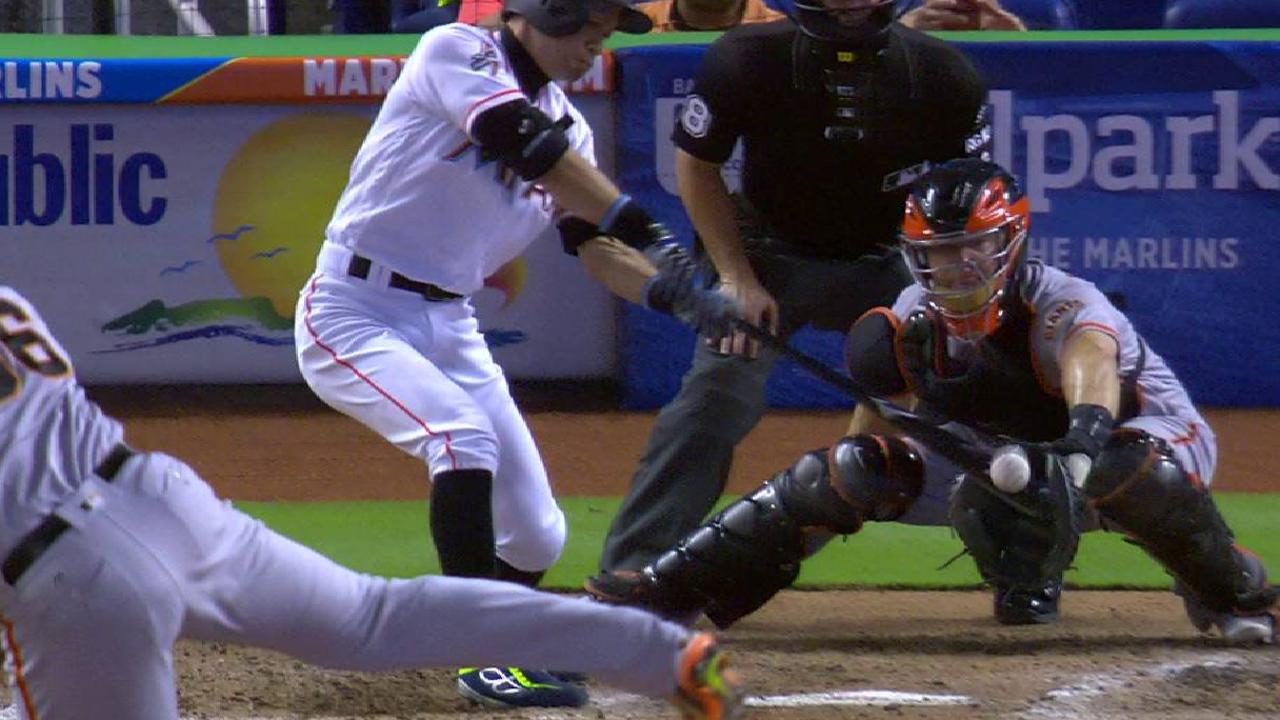 INSTANT REPLAY
The Giants got the benefit of an overturned call in the seventh inning to record the third out of the frame. Gordon tapped a slow roller in front of the mound that was fielded by reliever Albert Suarez, who threw to first. On a close play, Gordon was ruled safe. The review lasted 1 minute, 47 seconds before the call was overturned. Had it stood, Stanton would have come up with two on and two out.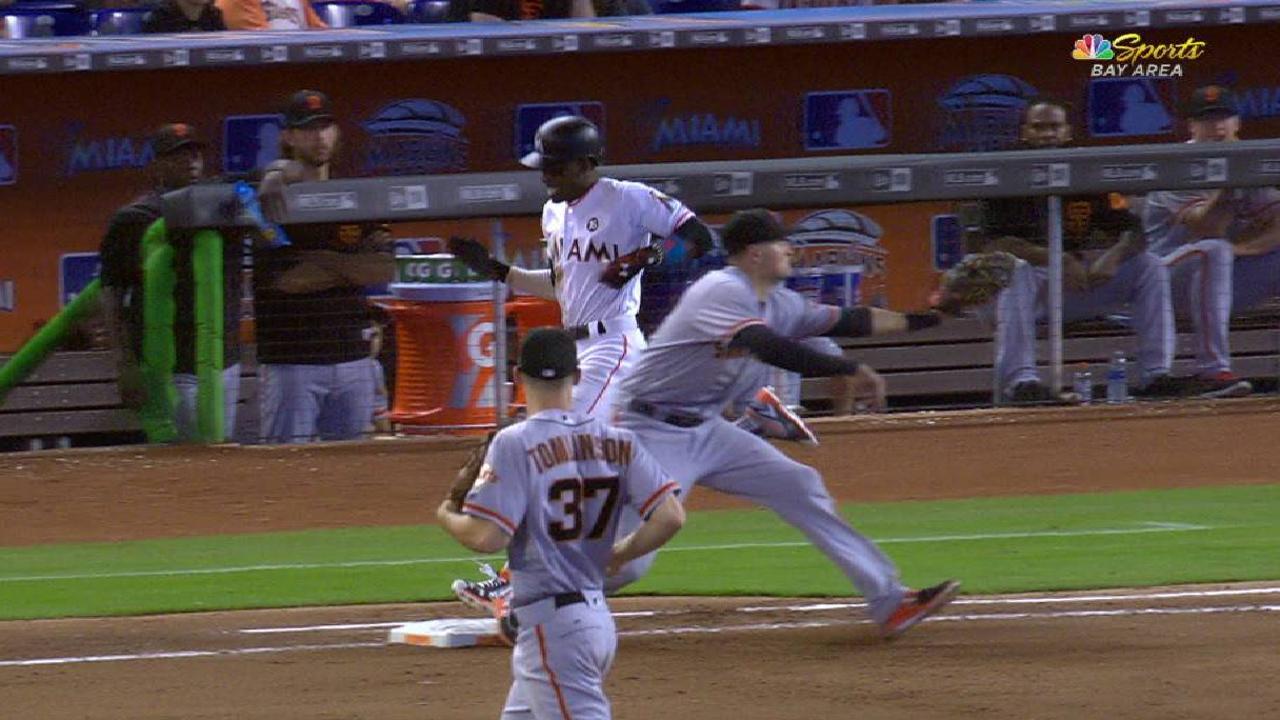 WHAT'S NEXT
Giants: The Giants travel back home to take on the Phillies for four games to start a seven-game homestand. Jeff Samardzija (7-12, 4.74 ERA) toes the rubber for the 7:15 p.m. PT Thursday start. His 8.67 career ERA vs. Philadelphia is his highest against any team.
Marlins: Off on Thursday, the Marlins take on the Mets on Friday at Citi Field, beginning at 7:10 p.m. ET. Justin Nicolino (1-1, 4.56 ERA) goes for the Marlins, with rookie right-hander Chris Flexen (2-1, 7.02 ERA) starting for New York. Stanton has 20 career home runs at Citi Field, his most at any opposing ballpark.
Watch every out-of-market regular-season game live on MLB.TV.
Joe Frisaro has covered the Marlins for MLB.com since 2002. Follow him on Twitter @JoeFrisaro and listen to his podcast.

Patrick Pinak is a reporter for MLB.com based in Miami who covered the Giants on Wednesday.

This story was not subject to the approval of Major League Baseball or its clubs.