Hard-hit balls don't lead to results for Marlins
Club scores one run in Thursday's second inning despite threatening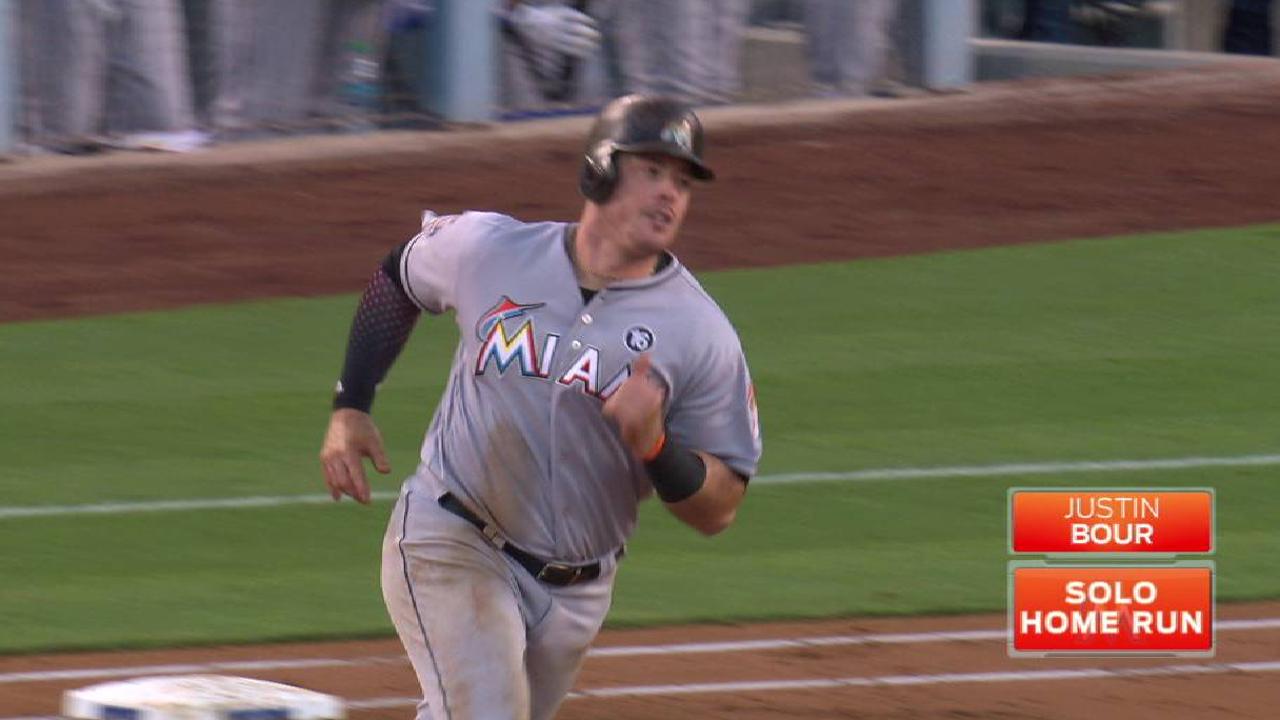 LOS ANGELES -- For a few moments Thursday night, it seemed the Marlins were on track to continue their recent success at Dodger Stadium and break out. But baseball has a funny way of unfolding.
The Marlins were blistering balls against Dodgers starter Hyun-Jin Ryu in the second inning, opening the frame with a trio of extra-base hits. Despite the loud and hard contact, the Marlins scored just one run, as missed opportunities were the theme of their 7-2 loss to the Dodgers.
"We had a couple shots there to get a big hit, and wasn't able to do it," manager Don Mattingly said after his club's fourth loss in a row and 18th in its last 22 games.
The Marlins were 0-for-8 with runners in scoring position, and left seven runners on base.
Giancarlo Stanton, one of four players ever to hit a homer out of Dodger Stadium, ripped a double off the left-field wall to open the second. Stanton's rocket double was barreled and had an exit velocity of 113.9 mph, according to Statcast™.
The next batter, Justin Bour, smacked a home run into the right-field bleachers, another barreled ball that had an exit velocity of 104.5 mph and a projected distance of 411 feet, per Statcast™.
The only problem was, Stanton was erased from the bases on the previous pitch. Ryu bounced his first offering to Bour in the dirt, and the ball got away from catcher Yasmani Grandal. Stanton broke for third, but the ball beat him to the bag and he was tagged out as he bowled over third baseman Justin Turner.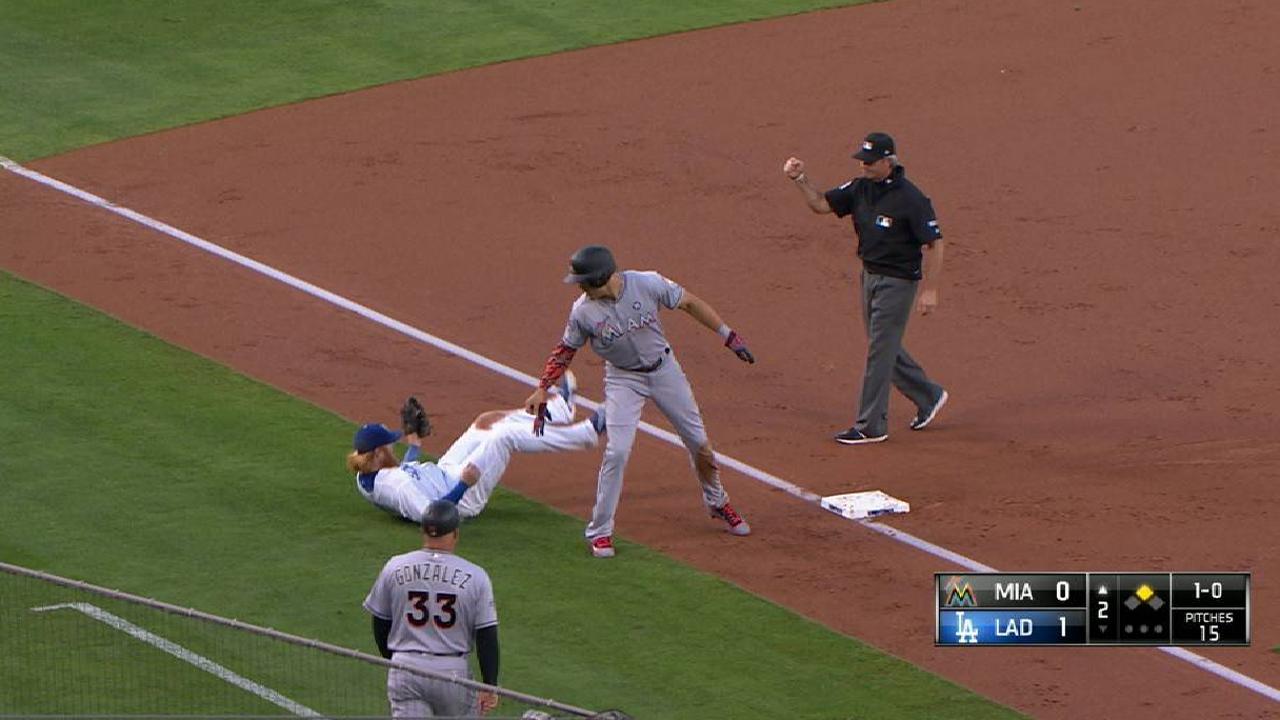 "I would prefer he made it," Mattingly said. "It's one of those balls. It looked like there was a little hesitation, because the ball got a pretty good ways away."
Following Bour's game-tying homer, J.T. Realmuto kept the pressure on Ryu with another barreled ball, a double to left that had an exit velocity of 105.4 mph, per Statcast™.
The Marlins seemed to have Ryu -- coming off a rocky start in Colorado -- on the ropes. But Miami didn't score again in the inning, as Christian Colon lined out to right and J.T. Riddle lined out sharply to center. Riddle's liner had an exit velocity of 101.9 mph, per Statcast™.
"Been like that every start, giving up homers and hard hit balls," Ryu said through an interpreter. "See that as part of the game."
On the flip side, hitting balls hard and making outs is part of the game, too.
"I think it's just part of the game of baseball," said Bour, who is hitting .444 (12-for-27) with five homers in his last nine games. "You're going to hit the ball hard and get outs, sometimes you're going to hit the ball soft and get hits."
Mattingly said he liked the at-bats in the second, even though the results weren't what the Marlins were looking for.
"Happy with the swings, you'd like to get more, it changes obviously when they get the one out with Giancarlo trying to advance on the dirt ball," Mattingly said. "Other than that, you can't really complain about the swings there."
Austin Laymance is a reporter for MLB.com based in Los Angeles and covered the Marlins on Thursday. This story was not subject to the approval of Major League Baseball or its clubs.