Inbox: Who will bat second for Marlins?
Beat reporter Joe Frisaro answers questions from Miami fans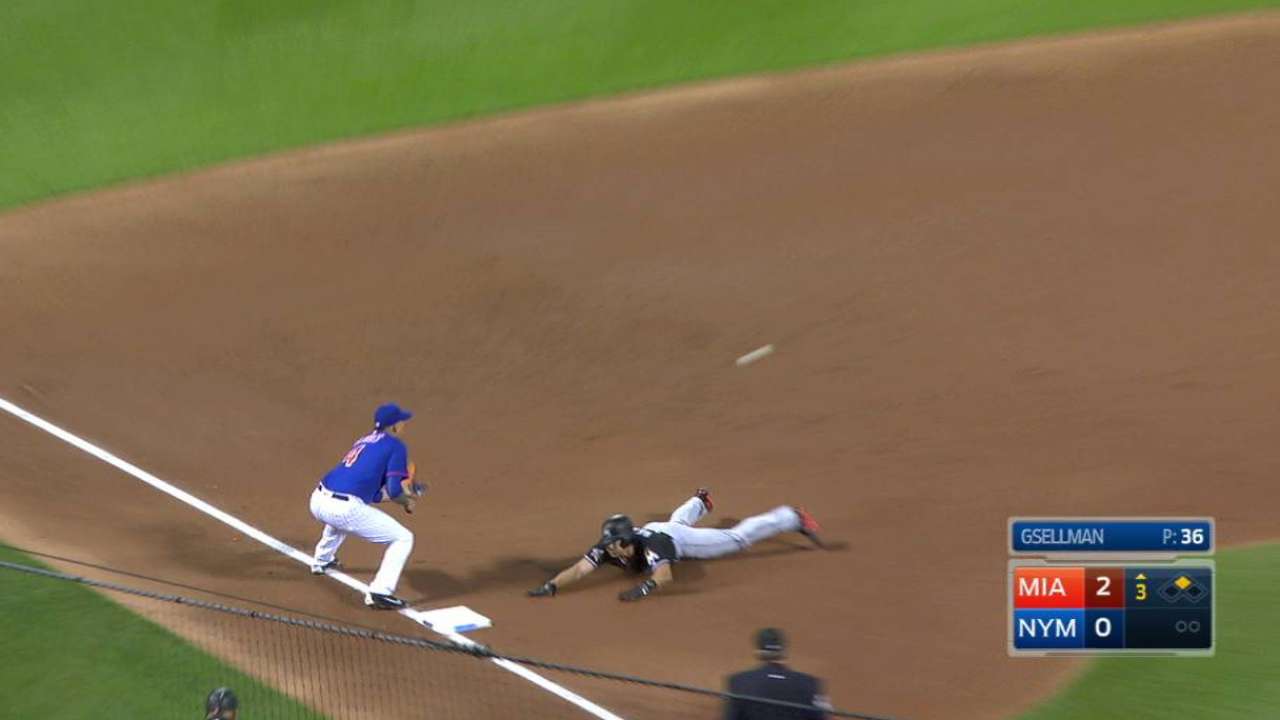 Do you see J.T. Realmuto or Martin Prado hitting in the No. 2 spot in the lineup over the long term?
-- @ZachGluck
Manager Don Mattingly has a good problem in filing out his lineup card, because both players have been productive at various spots in the order. If both are healthy, I'd say Prado gets the nod, mainly because -- based on last year -- he strikes out less. What we're seeing this year is Realmuto emerging as an All-Star-caliber player. Like Prado, he can hit the ball to all fields, and he has more home run potential.
• Submit a question to the Marlins Inbox
So over the long term, I wouldn't be surprised if Realmuto rises to the second spot. I am curious to see how Prado will hold up. He opened the season in the disabled list with a right hamstring strain, and he dealt with a cramp in his right calf at Seattle.
With increased focus on analytics in the front office, could Miami shift to starting the strongest of these players -- Adeiny Hechavarria, Derek Dietrich, Miguel Rojas and J.T. Riddle -- depending on matchups?
-- @brannondw
There's no question the Marlins are leaning more on Jason Pare, their senior director of analytics. But I don't think this is much of a decision. Hechavarria, on the DL with a left oblique strain, is the regular shortstop, and the team is better when he is there. That allows Rojas to be used all over the infield. Riddle needs to play. So when Hechavarria is back, Riddle is expected to return to Triple-A New Orleans. Dietrich is not an option at shortstop.
Do you think the Marlins will shop around for pitching should they stay in the race into late May/June?
-- @SportsTakeJames
Trading tends to heat up in July, but to your point, yes, I think the team is open to making moves. The cost for pitching on the trade market is high. So if a trade occurs, be prepared to part with a Competitive Balance Draft pick and a top prospect like third baseman Brian Anderson. I don't think the Marlins would move Dillon Peters or top overall prospect, per MLBPipeline.com, Braxton Garrett.
Miami should be getting pitching depth back in May. Jeff Locke opened the season on the DL with left shoulder tendinitis. Getting Locke back, either for the bullpen or rotation, is like making a trade. Justin Nicolino is a possibility, as is Peters. But Peters fractured his left thumb the other day at Double-A Jacksonville, and he will likely miss at least four to six weeks.
What's the chances of Jose Urena moving into the rotation? I watched him the other night and would like to see him get a chance to start again.
-- @CoolKidJoeXBL
Urena certainly looked sharp in four innings of relief on Monday at Seattle. There is upside, but he has a checkered track record in terms of consistency. If Urena can repeat his delivery, he could become a fixture in the rotation -- not just by the end of this year, but into the future. Most likely it will take an injury to unseat a current starter, but that is subject to change.
The new 10-day disabled list rule could mean pitchers who are experiencing some fatigue or soreness could go on the DL, because they'd basically miss just one start instead of two. So Urena -- whose four-seam fastball average, per Statcast™, is 96.43 mph, well above the MLB average of 92.75 mph -- may get a chance if that occurs down the line.
What happened to the Marlins' dancers this year? We were there two times the first homestand and noticed their absence.
-- @iceberg_matt
The organization redirected, so instead of having the Energy Team, which you saw the past few years, there is a Pep Squad. They can be seen around the park, helping promote in-game activities, like shooting T-shirts into the stands between innings.
Joe Frisaro has covered the Marlins for MLB.com since 2002. Follow him on Twitter @JoeFrisaro and listen to his podcast. This story was not subject to the approval of Major League Baseball or its clubs.