Spee-Dee: Gordon talks spring strategy for SBs
Reining stolen-base king cautions against peaking too early, risking injury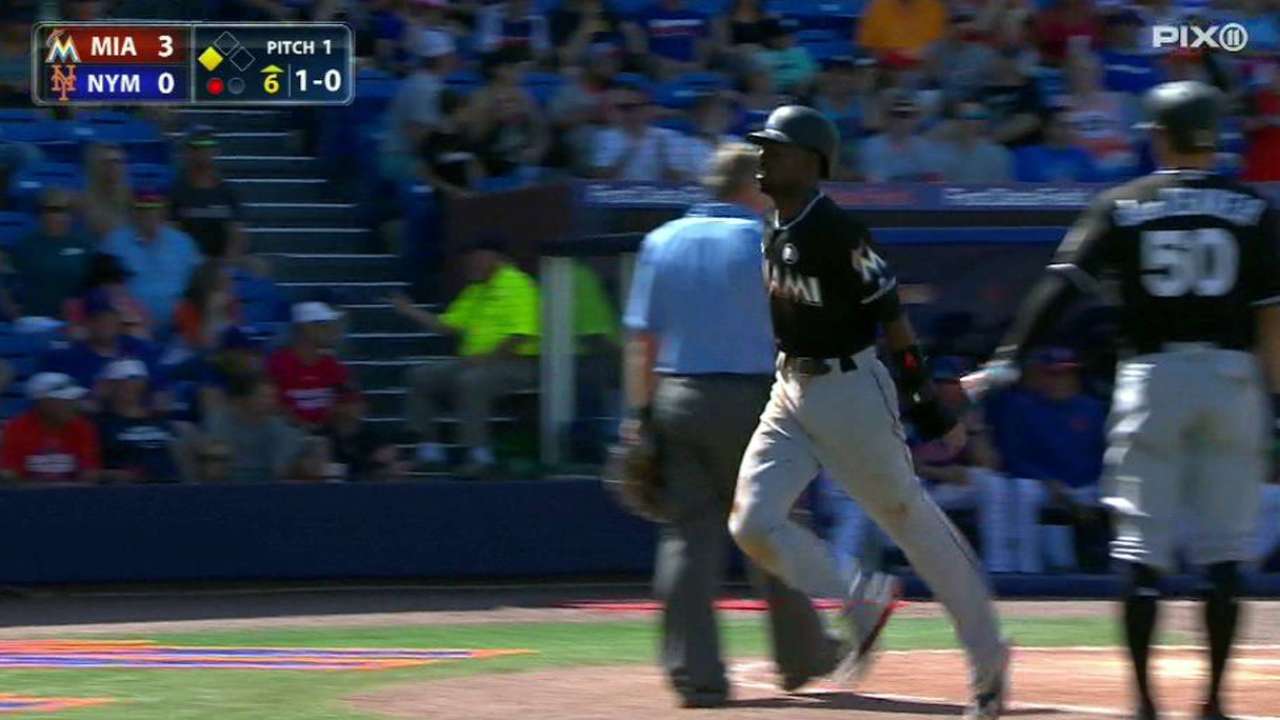 LAKE BUENA VISTA, Fla. -- Dee Gordon will go into the season as Major League Baseball's reigning stolen-base king, though the Marlins' second baseman doesn't think people necessarily see it that way.
"They think Billy Hamilton, which is totally fine," Gordon said Monday. "I play hard for the Miami Marlins, and that's all I care about."
A bag isn't even his favorite thing to steal.
"I like playing defense. I like stealing hits," Gordon said. "Stealing hits is sick. If you steal somebody's hit, they're all mad and stuff. ... I like that."
• Spring Training: Info | Tickets | Schedule | Gear
Gordon led the Majors in stolen bases in 2014 (64) and in '15 (58), and he swiped 30 in a 2016 season cut in half by his 80-game suspension for testing positive for performance-enhancing substances. At the age of 28, he is tied for 12th among active players with 218 steals.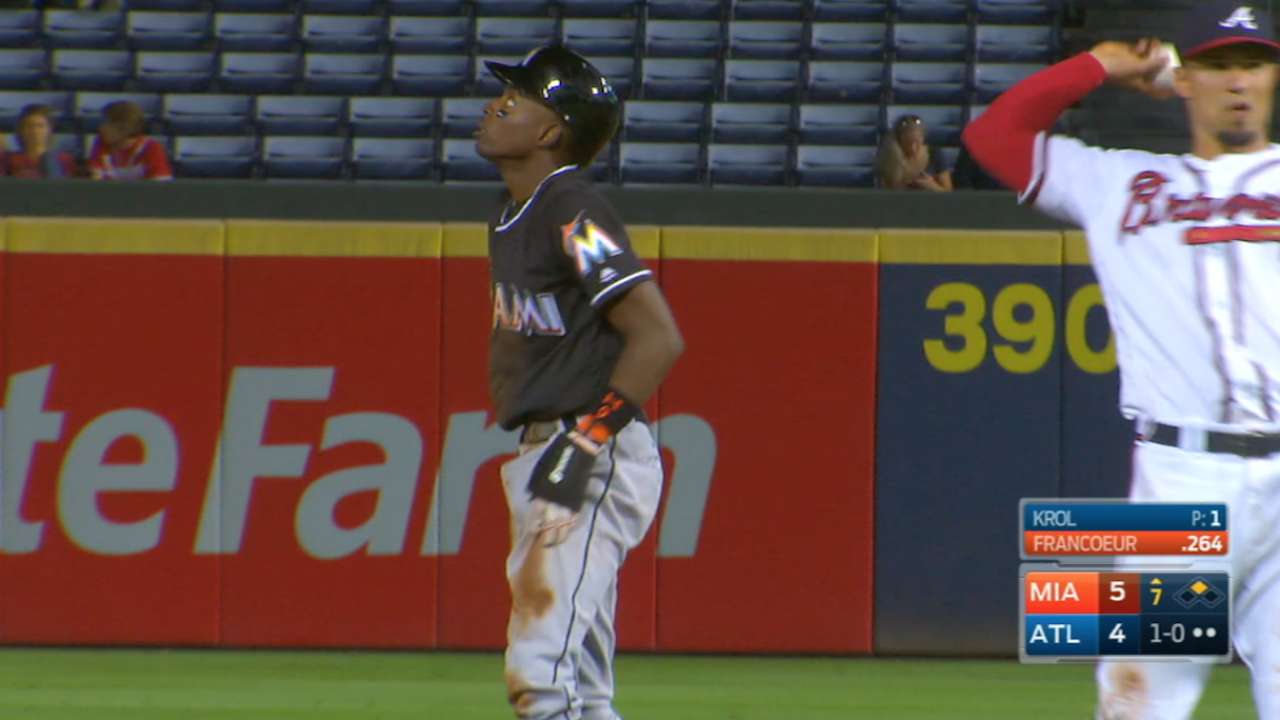 During a spring in which it seems especially important for him and the Marlins' regulars to stay healthy, Gordon has limited himself to three steals in three attempts in 15 games.
"I didn't like the early start [to Spring Training], but it's all good," he said. "You try not to peak too early, because you can get in a groove and then you have four weeks left."
Like any other skill, basestealing can use some practice in game situations, he explained.
"You can see pitchers' timing and stuff like that," Gordon said. "The whole game is the same in the spring -- you've got to get ready for certain situations. This is just part of it. But you've got to stay healthy, that's the key. The guys need you out there."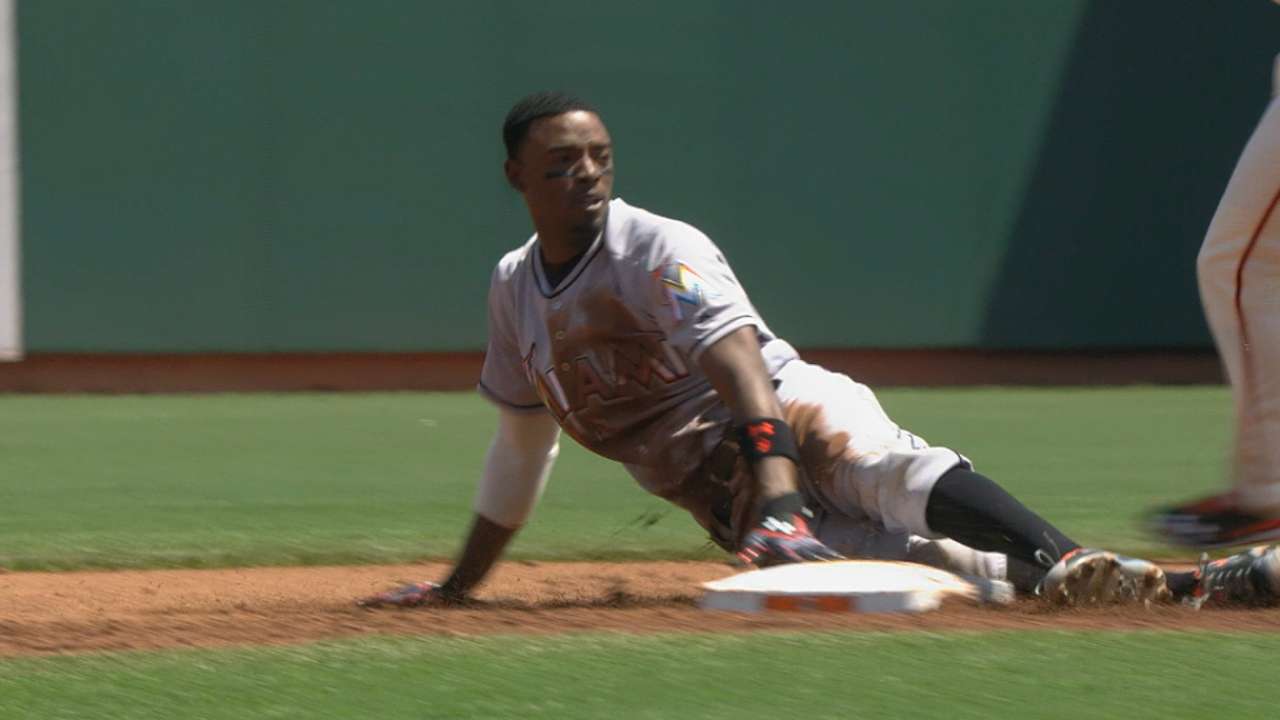 Gordon dislocated his thumb while stealing a base in 2015, though it didn't keep him from leading the National League in hits (205) and batting (.333).
With Martin Prado and Jeff Locke likely headed for the disabled list to start the season, the Marlins are well aware of the importance of staying healthy.
"We can afford one or two little injuries, but we can't afford big ones together that are lengthy," said manager Don Mattingly. "We can survive anybody for a couple weeks, but if we get ones that are two months, that puts us in danger."
Which is why Gordon won't be setting any Grapefruit League records for stolen bases.
"I love to play so I hated [serving the suspension], but it's all good now," Gordon said. "And I've always appreciated playing the whole season. I'm just going to go out and play hard again and see what happens."
Dick Scanlon is a contributor to MLB.com. This story was not subject to the approval of Major League Baseball or its clubs.