Realmuto skips Classic to learn new position
Marlins' regular catcher will see time at first base to keep bat in lineup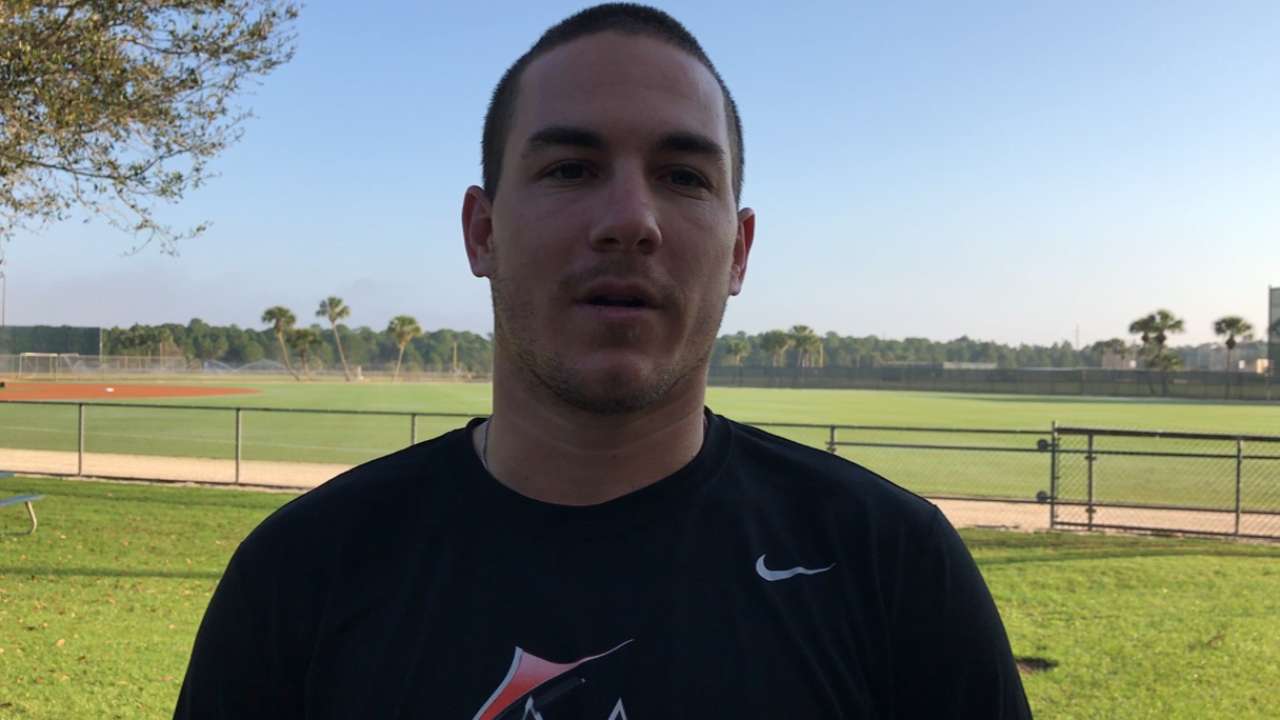 JUPITER, Fla. -- Sporting a Team USA jersey would have been a tremendous honor for J.T. Realmuto. But after giving serious though to participating in the World Baseball Classic, it was decided the best thing for the 25-year-old would be to remain with the Marlins in Spring Training.
Realmuto already has plenty on his plate as he prepares for 2017. Along with being Miami's regular catcher, the organization wants to use him at first base.
Learning a new position and being the third Team USA catcher factored into Realmuto skipping the Classic. Instead, Team USA added Marlins backup catcher, veteran A.J. Ellis, to its roster.
"It was kind of a mutual decision," Realmuto said. "We think it would be better to stay here and get at-bats and get reps at first, because in the WBC, I'd probably be the third catcher. So probably not a lot of at-bats there or a lot of playing time. It's probably best for the team, and the best for me to be here."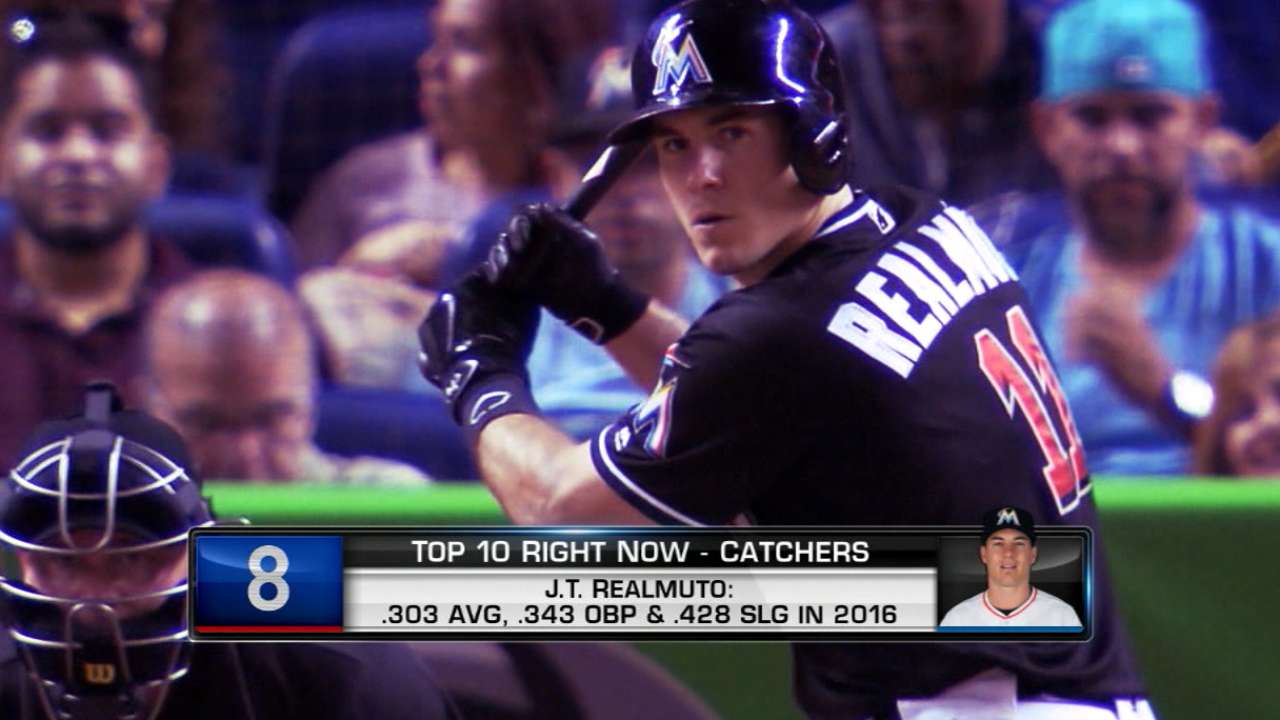 It has also been a hectic last few weeks for Realmuto, who recently got married.
Just two days into Spring Training, Realmuto's time is already in high demand. He's one of the earliest to arrive at the Roger Dean Stadium complex.
On Wednesday, Realmuto was in the cages an hour before workouts, taking his swings with new hitting coach Mike Pagliarulo. During the morning workouts, Realmuto caught a couple of bullpen sessions. And in the next day or two, he will get some time at first base.
One of the benefits Realmuto has is infield coach Perry Hill, nicknamed Bone, who is one of the best instructors in the business.
"I've talked to Bone quite a few times," Realmuto said. "He thinks I'm going to pick it up pretty quickly. With his help, I should pick it up pretty fast."
Moving around the diamond is nothing new for Realmuto.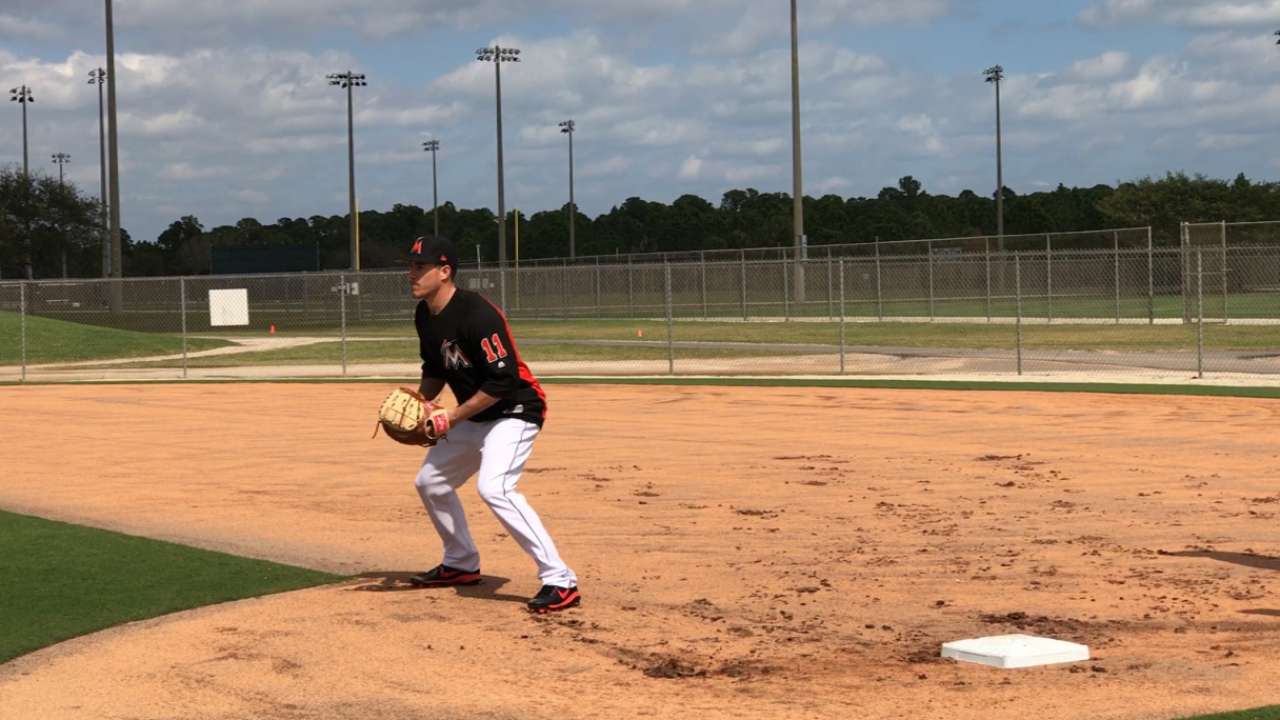 In 2010, the Marlins selected Realmuto in the third round. He was a shortstop in high school, as well as a quarterback. Realmuto turned down a football offer from Oklahoma State to play professional baseball, and he's now one of the top young catchers in the game.
"In all honesty, I don't think learning first will be nearly as hard as learning catcher," Realmuto said. "Hopefully, I should be able to pick it up."
The Marlins intend to carry a four-man bench, and the addition of Ellis has the team leaning towards spot starting Realmuto at first, which is a way to keep his bat in the lineup and ease the stress on his legs.
Justin Bour, a left-handed hitter, is Miami's regular first baseman. The plan is to give Bour a chance against lefty starters. Realmuto wouldn't necessarily be a platoon option. He'd be a candidate to play first occasionally, most likely against tough southpaws.
"Our plan is really to be able to play Justin, and give him an opportunity to play every day," manager Don Mattingly said. "We think there is a lot in the tank with this guy."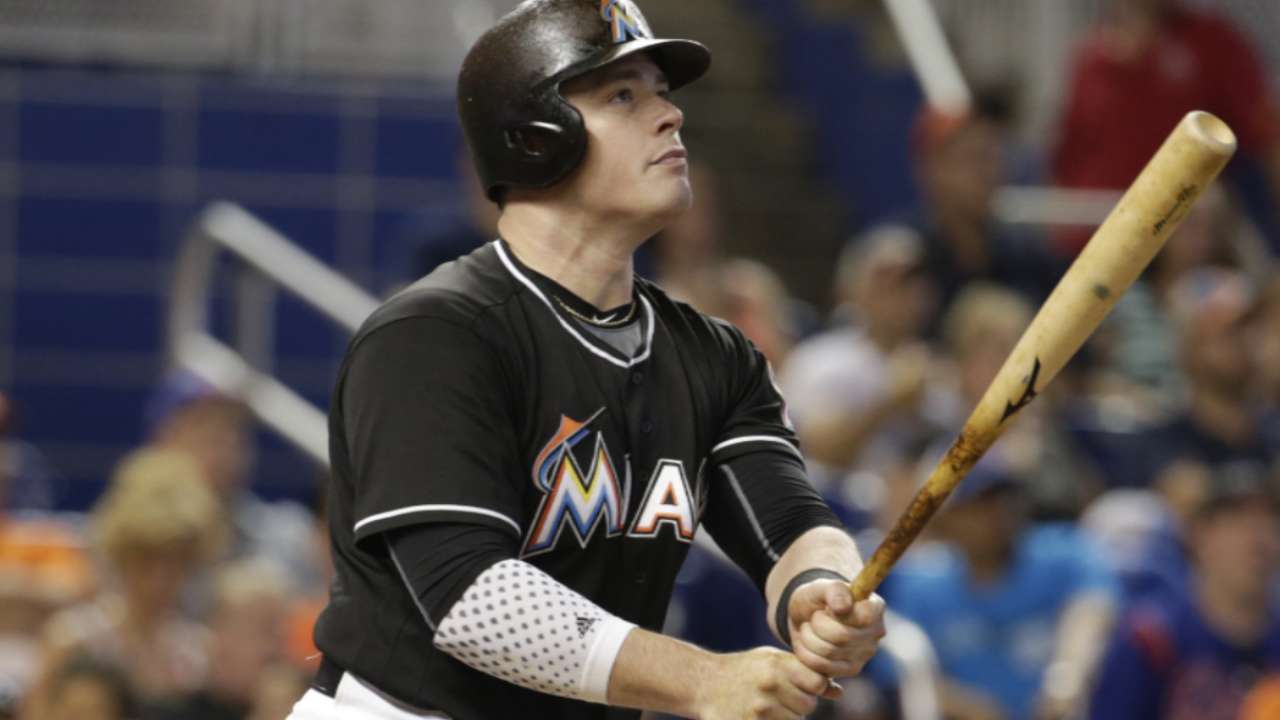 Realmuto is a threat at the plate. In 2016, his first full season in the big leagues, he produced a slash line of .303/.343/.428 with 11 home runs and 48 RBIs.
"We want to have some flexibility," Mattingly said. "We'll try to give J.T. some time playing first base. We're going to mainly stay with J.T. to make sure he's prepared to catch. That's the main thing, to make sure he doesn't go backwards, development-wise, with his catching. But we think he's athletic enough and he has enough energy to play first base. We can get that done in Spring Training."
The drawback is the risk that learning first could hinder Realmuto's progression catching.
"I've had the same conversation with Donnie," Realmuto said. "We're going to have pretty much the same catching routine as I did last year. All day long, working on catching in the morning. Working out on the field with the team, do a little catching after the game."
Joe Frisaro has covered the Marlins for MLB.com since 2002. He writes a blog, called The Fish Pond. Follow him on Twitter @JoeFrisaro and listen to his podcast. This story was not subject to the approval of Major League Baseball or its clubs.