Pinch by pinch: Ichiro a hit away from 3K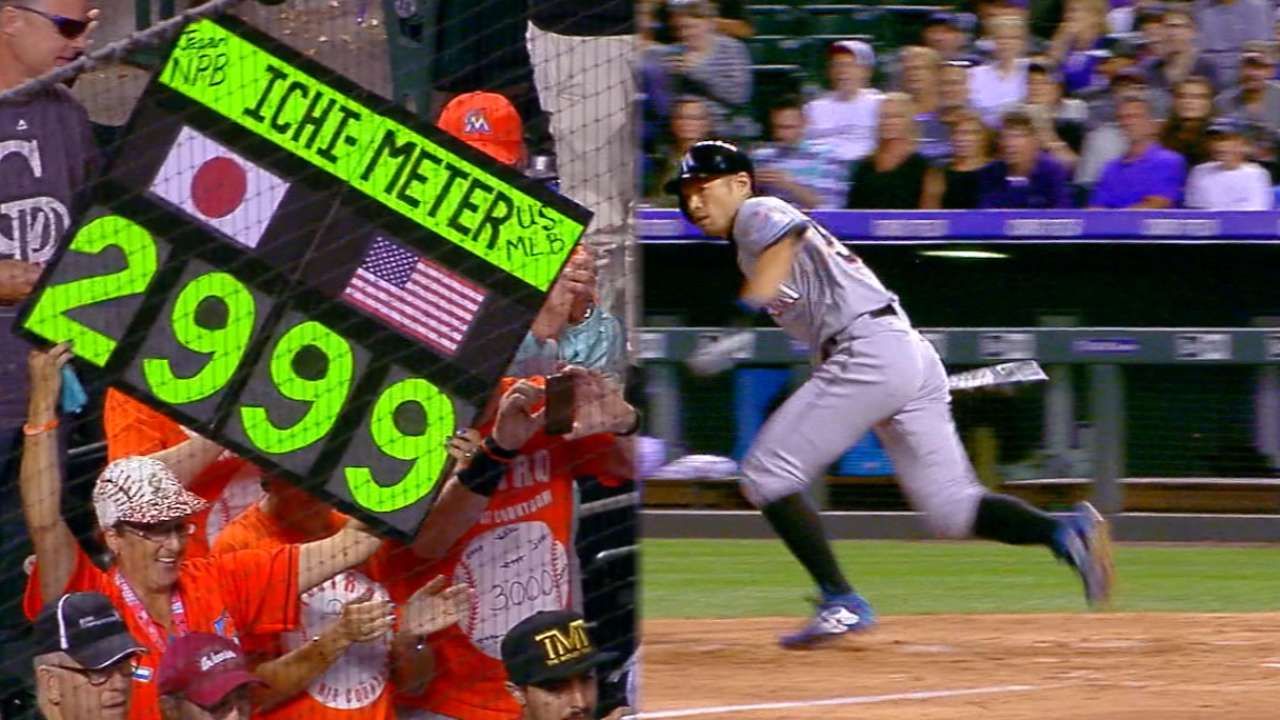 DENVER -- One frame after reaching on a pinch-hit infield single, Marlins outfielder Ichiro Suzuki came mere inches away from reaching his 3,000th career hit in the ninth inning of Saturday night's 12-6 loss to the Rockies.
With a runner on first and no outs in the ninth, Ichiro hit a high chopper up the middle that Rockies reliever Scott Oberg knocked down and collected in time to get the speedy 42-year-old by half a step.
• Oberg flashes leather to avoid Ichiro infamy
"When you put him in the game there when we did, there's a little thought in there that he might get two ABs," Marlins manager Don Mattingly said. "And once he gets that first one and that inning gets extended, you know he's going to get another AB. I think the guys are excited to have a chance to see it."
Pinch-hitting for Giancarlo Stanton -- who hit a record-setting home run earlier in the game -- in the eighth inning, Ichiro hit a bouncer down the third-base line off Jordan Lyles that Nolan Arenado made a barehanded play on, but Ichiro beat it out. It was the 699th career infield hit for Ichiro, according to Baseball Reference.
"He battled, and then he did what he's always done," Lyles said. "He puts it on the ground and uses his legs. Tremendous player. I just tried to attack him with a fastball down and away, and he got an Ichiro hit."
Ichiro had never faced Lyles and was 0-for-2 against Oberg coming into the game.
Ichiro is currently 30th all-time for career hits but would become the second player to collect 3,000 hits after turning 27. Pete Rose, the all-time hits leader, recorded 3,353 of his record 4,256 hits after turning 27.
Before the pinch-hit single, Ichiro was hitless in his previous 11 at-bats and was mired in a 2-for-21 slump. He is hitless in his last two starts but collected a hit in the six starts before that.
Ben Weinrib is a reporter for MLB.com based in Denver. This story was not subject to the approval of Major League Baseball or its clubs.